Seared Salmon With Orange Glaze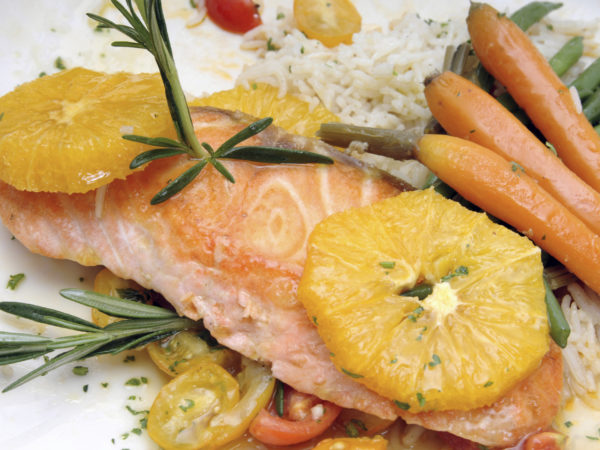 The salmon is seared, briefly baked and then drizzled with an orange ginger glaze giving this recipe rich flavor.
Not an ounce of flavor escapes this dish! The salmon is seared, trapping its rich flavor, briefly baked, and then drizzled with a thick, lightly fragranced orange ginger glaze – a balanced companion for a fish as flavorful as salmon. Salmon provides ample amounts of protein, B vitamins, vitamin A, and omega-3 oils.
Food as Medicine
Salmon are one of the richest dietary sources of omega-3 fatty acids (one four-ounce serving contains 87 percent of the Daily Value). A recent study following individuals in Japan, China, the U.S. and the U.K. showed that those whose diets included greater amounts of omega-3s – from fish, nuts, seeds and certain vegetable oils – had lower blood pressure than those who consume less of these essential fatty acids. Oranges are rich in free radical-neutralizing vitamin C (just one orange contains 116 percent of the Daily Value), and can help prevent the dangerous oxidation of cholesterol. Further, compounds known as polymethoxylated flavones – found in orange peels, such as the zest used in this recipe – may have cholesterol-lowering benefits as well.
Ingredients
Six 6-ounce salmon fillets
1 tablespoon sesame oil
3 teaspoons low-sodium soy sauce
1/4 cup white wine
1 cup freshly squeezed orange juice
1 teaspoon orange zest
3 tablespoons sherry
1/2 teaspoon grated fresh ginger
2 slices orange
Instructions
Preheat oven to 400°F.
Sear the fish fillets in the sesame oil in a large, very hot skillet for 1 minute on each side. You should hear the fish sizzle. Remove fillets from the heat and transfer them to a glass baking dish or baking pan.
Drizzle the soy sauce and the wine over them and bake them for 10 minutes. Remove them from the oven.
Meanwhile, heat the orange juice, zest, sherry, and ginger, together in a small saucepan over medium-high heat until reduced by half. Add the orange slices, and stir once or twice, until the sauce becomes thick.
Remove from heat, drizzle the sauce over the fish, and serve.
Tips From Rosie's Kitchen:
Searing meat or fish is a way to lock in the juices by exposing it to very high temperature. The correct way to sear is in a hot skillet or on a grill, for a very short amount of time, then slowly finish cooking in the oven. Be careful not to get the skillet too hot too fast or the oil will burn. If you want to serve this dish for lunch, serve half of a fillet with a side of salad. Ono or opah works beautifully with this recipe as an alternative to salmon.