Cold Cucumber Soup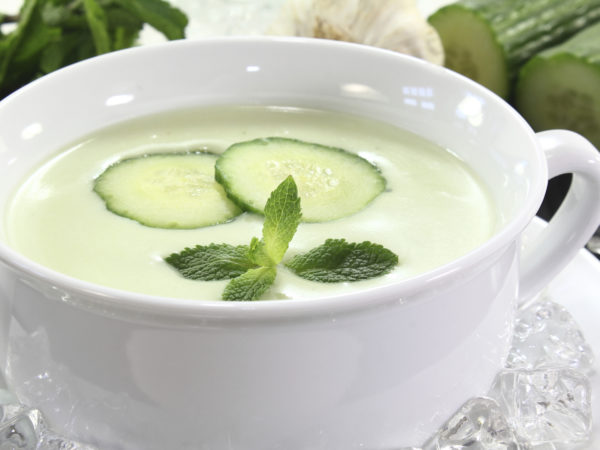 This soup is simple and you can make it ahead of time and chill it in the refrigerator until ready to use.
Early summer, when cucumbers are cheap and plentiful, is the best time to make this soup. It is so easy that you'll be making it a lot on warm afternoons or when you feel you want to eat something less than a complete meal. When I have guests for a late-evening meal, I serve this soup, along with steamed Alaskan crab legs, and mixed field greens, because it is so light. The crab legs and the salad round out the meal. You can make this soup ahead of time and chill it, covered, in the refrigerator until ready to use.
Food as Medicine
Due to their high water content, cucumbers are both hydrating and low in calories – only 13 per cup. Additionally, cucumbers contain vitamin C and caffeic acid, both of which reduce swelling and soothe skin irritations by preventing water retention. Dill is high in iron, manganese and calcium.
Ingredients
3 leeks, washed and sliced in rounds
2 cups vegetable stock
2 cups milk
6 cucumbers, peeled, sliced, and seeded
3 tablespoons minced fresh dill
1 tablespoon freshly squeezed lemon juice
2 tablespoons chopped green onion or chive
1 teaspoon salt
1 teaspoon freshly ground black pepper
GARNISH
plain yogurt or sour cream
2 tablespoons capers
Instructions
Cook the leeks in the stock in a large soup pot for 10 minutes. Add the milk and cucumbers.
Pour small batches at a time into a blender and purée until smooth. Add the dill, lemon juice, green onions or chives, salt, and pepper. Stir once or twice.
Chill covered in the refrigerator for 3 hours.
Pour 1-cup servings into each of 6 bowls, garnish with a dollop of plain yogurt or sour cream, and sprinkle a few capers on top.