Chili & Cilantro Cornbread Muffins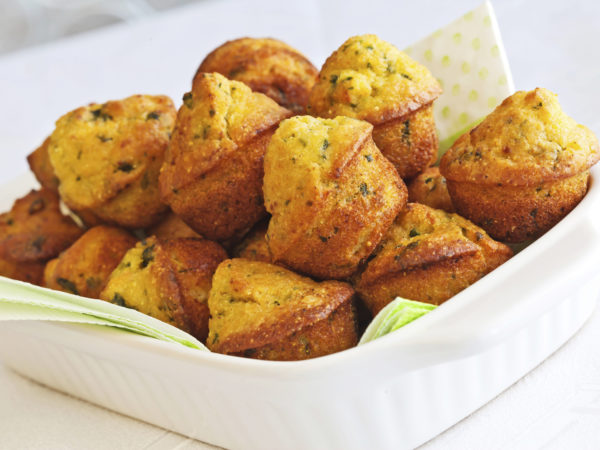 Nutrition
Makes 10 cornbread pieces or 12 muffins
Nutrients Per Serving:
Calories 178
Fat 8.1g
Saturated Fat 0.8g
(40.4% of calories from fat)
Protein 4.7g
Carbohydrate 22.1g
Cholesterol 36mg
Fiber 1.8g
This recipe is from THE HEALTHY KITCHEN – Recipes for a Better Body, Life, and Spirit by Andrew Weil, M.D and Rosie Daley (Knopf)
These muffins are moist and chewy, spicy and sweet. When you make them, they won't last long!
These muffins are excellent eaten alone, warmed with some butter, or as a side dish to a Southwestern entree, soup or a tasty chili.
Food as Medicine
Chilis contain capsaicin, which gives them their characteristic spiciness. Capsaicin inhibits a neuropeptide associated with inflammatory processes, and may be useful against certain inflammatory health conditions.
Ingredients
2 small Serrano chilies (or 2 ounces canned green roasted chilies)
1 1/2 cups unbleached white flour
1/2 cup yellow cornmeal
1 tablespoon baking powder
1 teaspoon salt
Pinch cayenne
2/3 cup milk or soy milk
2 large eggs
1/2 cup expeller-pressed canola or grape seed oil or softened butter
3 tablespoons pure maple syrup or sugar
1/4 cup chopped fresh cilantro
HONEY BUTTER TOPPING
(Optional)
3 tablespoons honey
3 tablespoons soft butter
Instructions
1. Preheat the oven to 350° F. 2. Put the chilies on a baking pan on the top rack under the broiler until they blister and turn black. Turn them over and repeat. Remove them from the broiler and drop them into a brown bag to cool. The skin will become loose and flaky as they cool.
3. Mix together all the dry ingredients in a large bowl. Whisk together the milk, eggs, oil or butter, maple syrup or sugar, and the cilantro in a separate bowl.
4. Stir the wet ingredients into the dry ingredients with a wooden spoon until thoroughly mixed.
5. Take the chilies out of the bag and slice them in half, directly down the middle. Open them up, and remove the eeds and discard. Peel the skin off and discard. Cut the chilies into small pieces and stir them into the batter until they are completely mixed in.
6. Smear a little butter or oil on the bottoms and sides of a 9-inch square baking pan or 12 muffin molds and pour the batter in. Bake 20 minutes if using a muffin pan, or 25 minutes if you're using a baking pan. Remove from the oven and let cool.
7. Make the Honey Butter: Simply blend the softened honey and butter together in a bowl with a fork, whipping lightly to create a creamy spread. Scoop the spread into a ramekin and serve along with the cornbread.
8. Make 1 slice directly down the middle of the baking pan and 4 slices across to make 10 rectangular pieces.
Tips from Rosie's Kitchen:
The indigenous people of the Southwest used to roast their chile peppers over an open fire. If you're feeling really motivated and have the time to do it, you, too, can roast the chilies over a flame or over a barbecue grill, instead of broiling them. Hold the chilies 4 inches away from the flame and rotate until all sides of the pepper turn black. If you'd like to use an alternative to chile peppers, just sauté 1/2 cup onions in a tablespoon of extra-virgin olive oil and use them in place. When handling serrano chilies, do not touch your eyes, because these chilies will sting.