Spicy Tofu With Bean Thread Noodles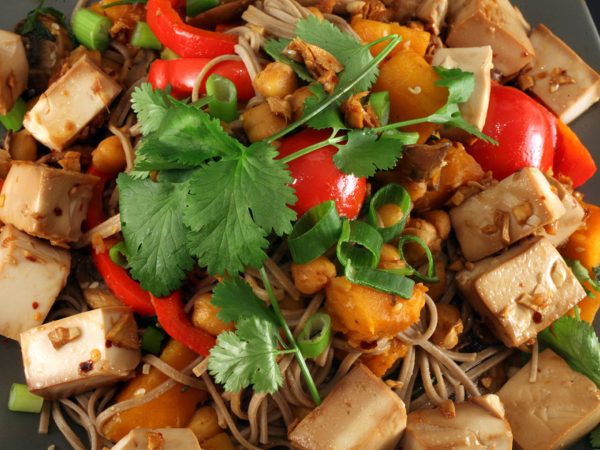 This quick-and-easy dish showcases tofu in a spicy mix of flavors and textures – sweet corn, mango, fennel, cilantro and sweet onions. Make it tonight!
Tofu surprises everybody who has never had it well prepared. The real bonus of eating tofu, besides the taste, is that it's high in protein, low in both sodium and calories, and is virtually cholesterol free. This is an uncomplicated dish, yet the flavors and textures that mingle together – sweet corn, mango, fennel, cilantro, and sweet onions – are intense. I believe that you'll develop a real taste for tofu and begin to enjoy cooking and serving this wonderful food. Tofu is really nature's gift to all of us.
Food as Medicine
Health enthusiasts tend to focus on tofu's high protein content, but it is also an excellent source of iron – a two-ounce serving provides 34 percent of the Daily Value. Together with copper – the same amount of tofu supplies 11 percent of your Daily Value – iron aids in hemoglobin synthesis for energy production throughout the body.
Ingredients
Marinade:
1/4 cup toasted-sesame oil
1 teaspoon ground fennel seed
1/2 teaspoon salt
1 teaspoon red chili paste, or more to taste
2 tablespoons honey
1/4 cup freshly squeezed lime juice
One 16-ounce block tofu, soft or firm
1 package (3 1/2 ounces) bean thread noodles
2 sweet onions, thinly sliced
2 ears of corn, kernels cut off the cob (about 2 cups)
1/2 cup vegetable stock or purified water
2 tablespoons natural soy sauce (such as tamari)
2 mangoes, peeled, pitted and cubed
1 bunch cilantro, washed
Garnish:
1 bunch mint
Instructions
Whisk all the marinade ingredients together in a small baking dish.
Preheat the oven to 450F°
Drain the tofu and chop it into 1/2-inch cubes. Drop the tofu cubes into the marinade and turn them gently, using a spoon to completely coat each one. Make sure that the tofu cubes are close together and sitting in the marinade. Bake in the hot oven for 15 minutes.
Meanwhile, soak the bean thread noodles in a pot of hot water for 20 minutes, and then strain through a colander to remove excess water.
Simmer the onions and the corn in the vegetable stock in a large sauté pan until the onions are tender and the corn is bright yellow (about 3 minutes). Add the soy sauce, mangoes, tofu and the juices from the marinade. Pinch the leaves off the cilantro and sprinkle them in. Add the bean thread noodles and toss until everything is thoroughly coated. Cook for 2 more minutes. For a handsome presentation, you can make a bed of the cellophane noodles and nestle the tofu, corn, and mango mixture on top. Then toss it all at the table.
Garnish with mint.
Tips from Rosie's Kitchen:
Bean thread noodles, also called cellophane noodles, can be found in the ethnic section of any supermarket, or in Asian grocery stores. You will want to cut them into 6-inch lengths with a pair of clean kitchen scissors after they have soaked in water, as this will make them more manageable to work with.
The key to well-flavored tofu is the baking dish. It must be small enough so the tofu squares are touching and sitting in the marinade. Tofu is porous, and baking the pieces this way allows all the juices to be soaked up and locked in.