Tomato, Corn, & Basil Soup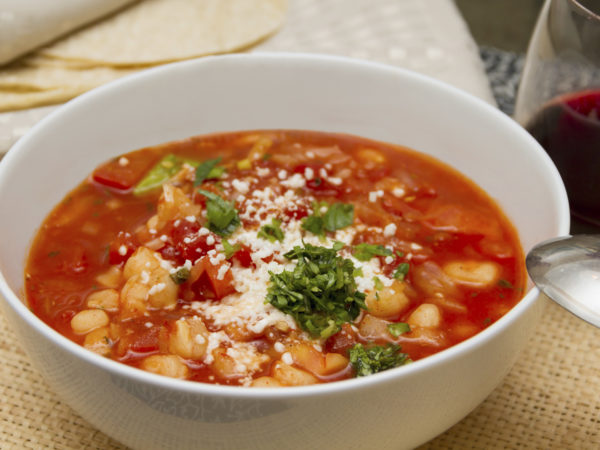 Nutrition
Serves 4
Nutrients Per Serving:
Calories 191
Fat 8g
Saturated Fat 1g
(38% of calories from fat)
Protein 5g
Carbohydrate 31g
Cholesterol 0mg
Fiber 4g
This recipe is from "The Healthy Kitchen – Recipes for a Better Body, Life, and Spirit" by Andrew Weil, M.D. and Rosie Daley (Knopf)
This vegan entree is normally a summer soup, but can also be made with organic, canned tomatoes and frozen corn any time of year.
Normally, this is a soup for summer, when you can get wonderful fresh corn and tomatoes. But the quality of the new frozen supersweet corn, both yellow and white, is very good, and canned, organic tomatoes are very flavorful and convenient. So as long as you can get fresh basil, you can make this satisfying soup any time of year. It is very easy to do.
Food as Medicine
Basil has long been prized for its therapeutic qualities. Essential oil of basil, which is extracted from its leaves, has been shown to inhibit several species of pathogenic bacteria. Remarkably, it is even effective against bacteria that have become resistant to common antibiotics. High consumption of lycopene, the most potent antioxidant found in tomatoes, has repeatedly been shown to provide cardiovascular benefits. One study, following 40,000 middle-aged women, found that, after excluding participants with angina, those with the highest blood levels of lycopene had a 50 percent lower risk of cardiovascular disease than those with the lowest plasma lycopene levels. To receive the most health benefits from tomatoes, opt for organic and enjoy them cooked (versus raw) with a little fat. Organic tomato products have been shown to have a much higher lycopene content than conventional varieties, as have cooked tomatoes over raw. Lycopene, a carotenoid, is fat-soluble, so be sure to cook tomatoes with a healthy fat, such as the olive oil in this recipe.
Ingredients
1 cup finely chopped onion
2 tablespoons extra-virgin olive oil
3-4 cloves garlic, minced
28 ounces canned, crushed tomatoes, preferably organic
1 cup purified water
3 cups fresh corn kernels cut from the cob, or 1 pound frozen sweet corn, preferably organic
Salt and freshly ground black pepper to taste
1 cup finely chopped fresh basil
Instructions
Sauté the onions in the olive oil in a saucepan over medium-high heat until they just begin to brown.
Add the garlic and sauté for a minute, stirring constantly.
Pour in the tomatoes and cook, stirring occasionally, until they give up their juice.
Cover and continue cooking about 5 minutes more.
Add the water and corn to the soup and cook until the corn is soft and the kernels lose their raw taste, about 5 minutes.
Season to taste with salt and pepper.
Stir in the basil, mix well, remove from heat, and serve immediately.