Japanese Wild Mushrooms With Soba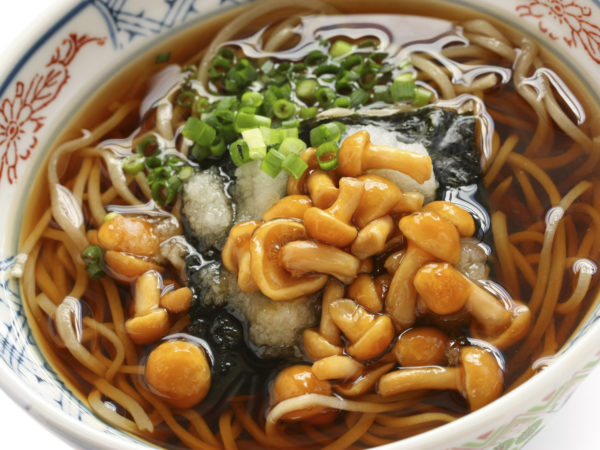 Nutrition
Serves 6
Recipe from "A Spoonful of Ginger" by Nina Simonds (Alfred A. Knopf, 1999)
Soba noodles are made from buckwheat flour, and are especially popular in Tokyo. With shiitake and oyster mushrooms, this is a hearty vegetarian meal.
Soba noodles, which are made with buckwheat and wheat flour, were always considered a health food, and as early as 300 years ago were believed to relieve stress and cure ulcers. They cleanse and energize the body as well.
Food as Medicine
Buckwheat is not a grain, but a fruit seed, and does not contain gluten. That makes it an appropriate substitute for some people who are gluten-sensitive. Be aware, however, that it is often combined with wheat (as it is in soba noodles) to give more structure to baked or boiled dough.
Ingredients
1/2 pound fresh shiitake mushrooms, stems trimmed
4 ounces oyster or maitake mushrooms, stems trimmed
1/2 pound soba noodles
2 1/2 tablespoons sweetened rice wine (mirin)
5 tablespoons soy sauce
4 whole scallions, ends trimmed and cut diagonally into .25-inch lengths
Dashi:
1 four-inch-square giant kelp (konbu – available at natural foods markets)
5 cups cold water
1 cup dried bonito flakes (katsuo bushi – available at Asian markets)
Instructions
1. To make the Dashi, clean the kelp if necessary with a damp cloth, removing any dirt. Put into a large saucepan with the water and bring to a boil over high heat. Remove the kelp immediately and reserve for another use.
2. Bring the water to a boil again, add the bonito flakes, stir, then remove from the heat. Let the flakes settle to the bottom of the pan, about 1 minute, and strain the liquid through a fine strainer or a strainer lined with cheesecloth, into a Dutch oven or a casserole. Discard the bonito flakes.
3. Cut the mushrooms into thin slices.
4. Bring 4 quarts water to a boil in a large pot. Drop the soba into the water, and stir to prevent them from sticking together. Bring to a boil again and cook 3 1/2 to 4 minutes, until just tender. Drain the noodles in a colander and rinse under warm water. Drain again and divide the noodles among six serving bowls.
5. Add the sweetened rice wine and soy sauce to the dashi, and heat to a gentle boil. Add the mushrooms and scallions, and cook for 4 to 5 minutes over medium-high heat. Skim any impurities from the surface.
6. Ladle the mushrooms, scallions and hot broth over the noodles and serve.