Chinese Green Bean Salad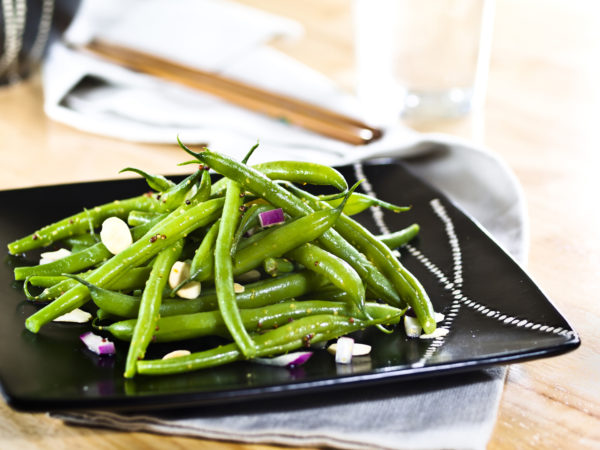 Nutrition
Serves 4
Nutrients Per Serving
Calories: 67.4
Protein: 2.7 grams
Fat: 2.4 grams
Saturated Fat: 0.4 grams
Monounsat Fat: 0.9 grams
Polyunsat Fat: 1.0 grams
Carbohydrate: 10.9 grams
Fiber: 4.2 grams
Cholesterol: 0.0 mg
Vitamin A: 757.5 IU
Vitamin E: 0.6 mg/IU
Vitamin C: 19.6 mg
Calcium: 47.5 mg
Magnesium: 35.2 mg
This bright green, crunchy salad is bursting with Asian flavors and is so easy to prepare.
Look for fresh, plump organic green beans if you can find them. Cook them until they are bright green and still crunchy-tender. At this point you can keep the green beans refrigerated. Toss them with the dressing just before serving or the acid in the dressing will dull the bright green color. Ginger root, one of the main flavors in this salad, is actually a rhizome, an underground stem of a tropical plant, Zingiber officinale, which is well known for its anti-inflammatory properties and as a treatment for nausea. You can use ginger in many forms and reap its benefits. Look for other recipes that use crystallized ginger, the dried powder, the fresh form (used here) or even ginger tea.
Food as Medicine
Green beans are low in calories – just 44 per cup – but rich in vitamin C, vitamin K and manganese.
Ingredients
1 pound fresh green beans, organic if possible
1 tablespoon finely chopped fresh ginger root
1 cup slivered red onion
Dressing:
4 teaspoons dry mustard powder
1 tablespoon cold water
2 tablespoons reduced-sodium soy sauce
3 tablespoons rice or cider vinegar
2 teaspoons dark-roasted sesame oil
2 teaspoons of sugar
Instructions
1. Trim and cut the green beans into 1-inch lengths. Cook in rapidly boiling water, about 5 minutes or until crunchy-tender.
2. Drain beans, immerse in cold water to stop the cooking until they are cool, then drain well.
3. Mix the dressing ingredients in a small bowl with a whisk until well blended.
4. Toss the green beans with the ginger root, red onion and dressing. Serve immediately.