Hot & Sour Cabbage Slaw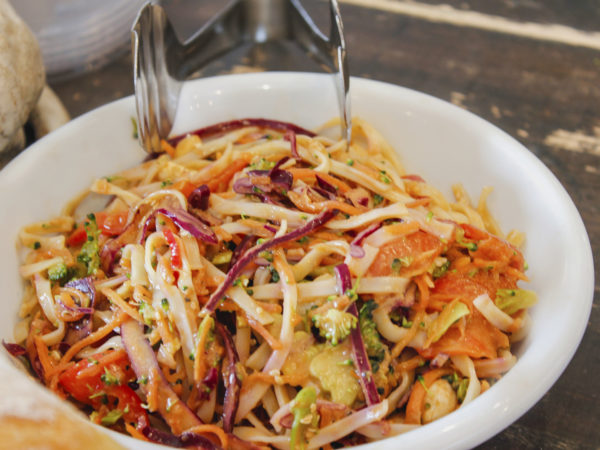 Nutrition
Serves 6
Recipe from "A Spoonful of Ginger" by Nina Simonds (Alfred A. Knopf, 1999)
This tangy, tasty slaw is yet more proof that healthy eating need not be expensive!
Chinese, or Napa, cabbage is widely available in supermarkets. I find a cabbage slaw is a crucial component when making fish tacos. The spicy soy sauce dressing for this slaw can be made in just a few minutes and is delicious on other veggie salads.
Food as Medicine
Because of its high vitamin C content, Chinese (Napa) cabbage is believed by Chinese doctors to moisten the intestines and beautify the skin. For constipation, cabbage cooked with beets is often recommended. Carrots are believed to ease whooping cough and coughs in general.
Ingredients
1 small head Chinese (Napa) cabbage (about 11/2 pounds)
1 teaspoon (expeller-pressed) canola oil
1 teaspoon toasted sesame oil
1 teaspoon crushed dried chiles
2 1/2 tablespoons minced fresh ginger
1 red bell pepper, cored, seeded, and cut into 1/2-inch dice
1 1/2 tablespoons rice wine or sake
1 1/2 cups grated carrots
Dressing
3 tablespoons soy sauce
1/2 teaspoon salt
2 tablespoons sugar
2 1/2 tablespoons Chinese black vinegar or Worcestershire sauce
Mix all togherther
Instructions
1. Cut the cabbage stalks from the root end. Trim the leafy tip ends and discard. Rinse the stalks thoroughly and drain. Cut them into julienne strips about ½-inch wide, separating the stem sections from the leafy sections. (The leafy sections take less time to cook.)
2. Heat a wok or large skillet, add the oils, and heat until hot.
3. Add the crushed dried chiles and minced ginger, and stir-fry over high heat about 15 seconds.
4. Add the red pepper dice and stir-fry about 30 seconds, then add the rice wine or sake and continue stir-frying 30 seconds more.
5. Add the stem sections of the cabbage, and the carrots, toss lightly over high heat, and cook for a minute.
6. Now add the leafy sections, toss lightly, and pour on the Dressing. Continue tossing lightly to coat.
7. Cook about 30 seconds and transfer to a serving bowl.
8. Serve warm, at room temperature, or cold.