Garlic Walnut Dip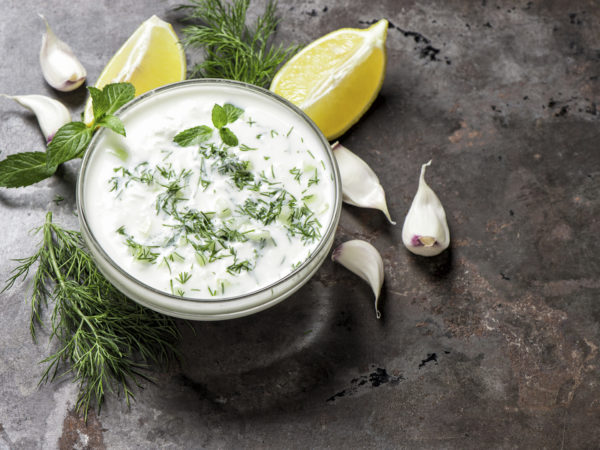 Nutrition
Serves 8
Nutrients Per Serving
Calories: 64.1
Protein: 1.7 grams
Fat: 3.8 grams
Saturated Fat: 0.5 grams
Monounsat Fat: 1.8 grams
Polyunsat Fat: 1.2 grams
Carbohydrate: 6.9 grams
Fiber: 1.0 grams
Cholesterol: 0.0 mg
Vitamin A: 68.9 IU
Vitamin E: 0.4 mg/IU
Vitamin C: 4.0 mg
Calcium: 15.7 mg
Magnesium:15.8 mg
This dip recipe can be used as a sauce for fish or spooned over slices of fresh mozzarella and tomatoes!
This unusual dip or sauce uses whole-wheat toast crumbs and walnuts for body. The flavor comes from our favorites – garlic, lemon juice and olive oil. It can be used as a sauce for fish or spooned over slices of fresh mozzarella and tomatoes. Serve it in a small bowl surrounded by red pepper and zucchini strips. Then imagine you are in Greece!

Food as Medicine
One-quarter cup of walnuts contains 95 percent of the Daily Value for omega-3 fatty acids, which explains why, out of all their beneficial effects on the body, these nuts are best known for their contributions to heart health. Most likely thanks to the alpha-linolenic acid (ALA is the form of omega-3s found in walnuts and other plant foods) they contain, walnuts have been found to maintain the flexibility of arteries after a high-fat meal better than even olive oil. Along with other markers, artery flexibility is an important aspect of vascular reactivity, or the ability of our blood vessels to respond to stimuli in a favorable way. Garlic is another potent medicinal food, the effects of which are enhanced by allowing it to sit for at least five minutes after being chopped or crushed, and before combining it with an acidic ingredient such as lemon juice, in order to activate the allicin (garlic's primary health-promoting compound). The same sulfur-containing compounds in garlic that regulate blood pressure may also aid in iron metabolism by increasing production of ferroportin, a protein that transports iron from within a cell to outside the cell.
Ingredients
3 slices whole-wheat toast
1/4 cup walnuts
4 cloves garlic, chopped
2 tablespoons fresh lemon juice
1 tablespoon extra-virgin olive oil
3/4 cup water
2 tablespoons fresh parsley leaves salt and pepper to taste
Instructions
1. Place the toast in a food processor and process into fine crumbs.
2. With the motor running, add the walnuts and garlic and process until they are ground fine.
3. Add the remaining ingredients with the motor running and process until smooth, adding more water if the mixture seems too thick.
4. Scrape the mixture into a bowl, and season to taste with salt and pepper.
Variation: Blend in a little fresh Greek yogurt for a tangy, creamier version.