Spicy Garlic Broccoli With Pine Nuts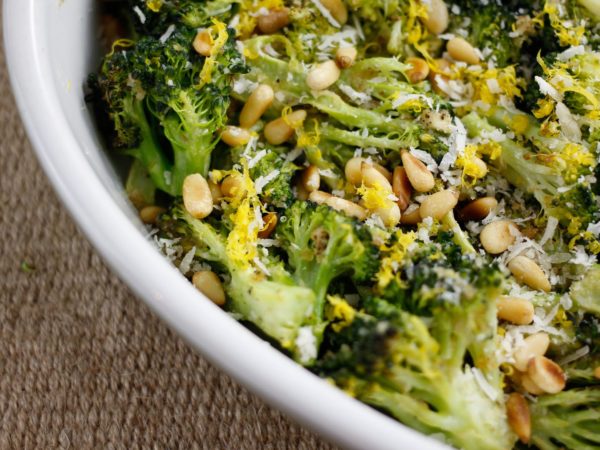 Nutrition
Serves 6
Recipe from "A Spoonful of Ginger" by Nina Simonds (Alfred A. Knopf, 1999)
Garlic and broccoli go hand in hand in this savory dish with light soy dressing and toasted pine nuts.

Garlic and broccoli seem to go hand in hand, one flavor beautifully complimenting the other. A light soy dressing and toasted pine nuts round out this savory dish. Opinions vary as to whether broccoli is neutral or cooling.
Food as Medicine
Broccoli is a good source of folic acid, vitamin K, and vitamin C. It also provides potassium and fiber. It is often prescribed by Chinese doctors for eye inflammations and nearsightedness.
Ingredients
1 ½ pounds broccoli or broccoli rabe
¼ cup pine nuts
1 ½ teaspoons (expeller-pressed) canola oil
1 ½ teaspoons roasted sesame oil
1 teaspoon hot chile paste or ¾ teaspoon crushed dried chiles
2 tablespoons minced garlic
2 ½ tablespoons rice wine or sake, mixed with 2 tablespoons water
Sauce 
1 ½ tablespoons soy sauce
1 teaspoon sugar
Mix together in a bowl until the sugar is dissolved.
Instructions
1. Trim the ends of the broccoli, separate the florets, peel the outer skin of the stem and cut it on the diagonal into 1-inch lengths.
2. Toast the pine nuts until golden in a 300° oven, turning them occasionally so that they cook evenly for about 20 minutes.
3. Heat a wok or large skillet, add the oils, and heat until hot, about 20 seconds. Add the chile paste or crushed chiles and garlic, and stir-fry, tossing with a slotted spoon over medium heat until fragrant, about 15 seconds. Turn the heat to high.
4. Add the stem sections of the broccoli and stir-fry. Pour in the rice wine and water and cook, tossing, about 30 seconds, then cover and cook about 1½ to 2 minutes, until the stems are just tender. Add the florets or leafy sections and toss over high heat, cooking for about 1½ minutes or until just tender.
5. Add the premixed Sauce and toss lightly for 15 seconds. Add the toasted pine nuts and stir-fry a few seconds to combine the ingredients. Scoop the ingredients into a serving bowl and serve immediately.