Lemon Baked Halibut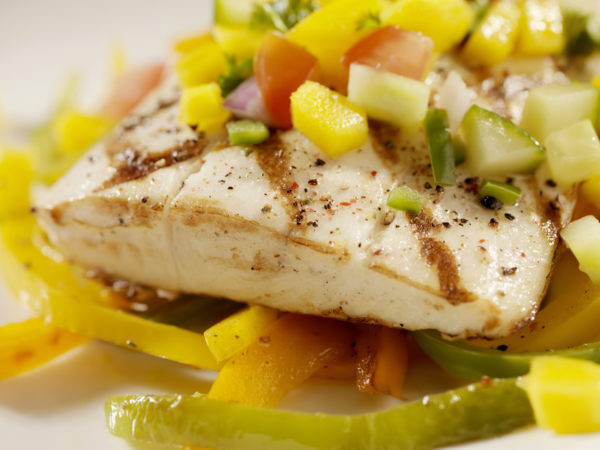 The mellow flavor of this fish comes from marinating it in vigorous spices. Serve with steamed veggies!
After cooking, it is topped with homemade salsa rich with the flavor of tangy onions, fiery jalapeño peppers, and cool papaya. Make the salsa first, before you start preparing the fish. It is also best to make the marinade far enough in advance so that the flavors can blend together for at least 2 hours before you actually marinate the fish in it for 30 minutes. Keep this in mind when deciding what time you want to serve this dish. I couple this entrée with a side of steamed vegetables or Roasted Root Vegetables.
Food as Medicine
Halibut provides many vitamins and minerals: including selenium, phosphorus, magnesium; and vitamins B3 (niacin), B12, and B6. Halibut is also a good source of high-quality protein.
Ingredients
PAPAYA SALSA
1/2 cup cilantro leaves
1 cup cubed papaya
1/4 cup cubed red bell pepper
1/4 cup diced red onion
1 small jalapeño pepper, seeded and minced
2 tablespoons freshly squeezed lime juice
MARINADE
3 tablespoons freshly squeezed lemon juice
1 tablespoon grated lemon zest
1 tablespoon olive oil
1 tablespoon grated fresh ginger
3/4 teaspoon freshly ground black pepper
1/2 cup minced fresh cilantro
Six 6-ounce halibut steaks, sliced in half lengthwise
3 medium bulbs fennel, trimmed and sliced
2/3 cup purified water
9 black or white peppercorns
Instructions
Make the salsa: Put the salsa ingredients in a small bowl, mixing with a spoon until everything is thoroughly melded in. Cover and refrigerate until you are ready to use.
Make the marinade: Stir together the lemon juice, zest, oil, ginger, pepper, and cilantro in a bowl. Let the flavors mingle together for at least 2 hours, covered, in the refrigerator. After the 2 hours, put the fish in a baking pan, pour the marinade evenly over it, and let it sit for 20–30 minutes, covered, in the refrigerator.
Preheat oven to 400°F.
Meanwhile, cook the fennel in the water with the peppercorns in a large, flameproof sauté pan, covered, over high heat for about 6–8 minutes, until just tender, adding liquid if necessary.
Remove from the heat.
Remove the halibut steaks from the refrigerator and bake them for 5 minutes on each side. The halibut should be flaky and white.
Arrange equal portions of the fennel on each of 6 plates, put the halibut on top, and spoon 1 tablespoon of Papaya Salsa on the fish.