Roasted Root Vegetables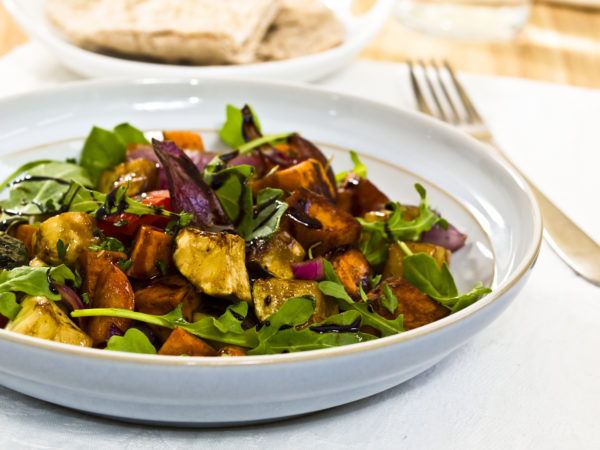 Nutrition
Serves 6
Nutrients Per Serving
Calories: 108.5
Protein: 2.7 grams
Fat: 2.5 grams
Saturated Fat: 0.4 grams
Monounsat Fat: 1.7 grams
Polyunsat Fat: 0.3 grams
Carbohydrate: 20.1 grams
Fiber: 4.1 grams
Cholesterol: 0.0 mg
Vitamin A: 10,866. IU
Vitamin E: 0.7 mg/IU
Vitamin C: 24.6 mg
Calcium: 47.4 mg
Magnesium: 33.7 mg
Looking for a healthy cold-weather side dish? Roasting root vegetables can make them irresistible even to the veggie-phobes in your family. For this recipe, experiment with these nutritional storehouses – turnips, rutabagas, beets and parsnips.
Root vegetables (with the exception of potatoes and carrots) are some of the most overlooked and underappreciated foodstuffs around. But these nutritional storehouses are hidden treasures worthy of your notice. Not only are they available in winter when other vegetables are hard to find, but they are also very inexpensive. Experiment with turnips, rutabagas, beets and parsnips, and learn what they have to offer in taste and versatility. Rutabaga (also known as swede) is an accidental vegetable – the result of a chance hybridization of turnips and cabbage. Like carrots, they're low in sodium and high in vitamin C. The flavor of all root vegetables will be enhanced by selecting fresh, firm produce (preferably organically grown) and storing it carefully. Turnips and potatoes should be stored in a cool, dark place out of the refrigerator. The rest of these roots will keep well in the refrigerator for at least a week.
Food as Medicine
All root vegetables contain healthful fiber and slow-digesting carbohydrates, but beets have some special properties. Unlike most other red vegetables, which have anthocyanins to thank for their distinctive color (think red cabbage), beets derive their hue from pigments called betalains, which range in color from red-violet to yellow. Betalains, in addition to their antioxidant and anti-inflammatory properties, trigger a family of enzymes that binds toxic substances in cells, neutralizing and allowing them to be excreted from the body. Garlic's health benefits, many of which come from its sulfur compounds, are widely documented. Some of these sulfur-containing molecules, polysulfides, are converted by red blood cells into hydrogen sulfide (H2S), which dilates the blood vessels, helping to regulate blood pressure.
Ingredients
2 pounds root vegetables (use potatoes, sweet potatoes, carrots, parsnips, turnips, rutabagas, beets), peeled and cut into 1-inch pieces
1 medium onion, peeled and cut into 1/3-inch wedges
1 tablespoon extra-virgin olive oil
Salt to taste
1 head garlic, separated into cloves and peeled
Chopped fresh herbs like rosemary, or balsamic vinegar (optional)
Instructions
Heat oven to 400 degrees. Place the root vegetables and onion in a roasting pan.
Toss the vegetables with the olive oil and salt to taste. Do not crowd the vegetables.
Roast the mixture for a total of 45-50 minutes, stirring every 15 minutes.
After 30 minutes, scatter the garlic cloves in with the vegetables.
Continue stirring every 15 minutes until the vegetables are tender and evenly browned.
Before serving, add a sprinkling of fresh chopped herbs or balsamic vinegar, if you like for additional flavor.