Coconut-Lemon Bars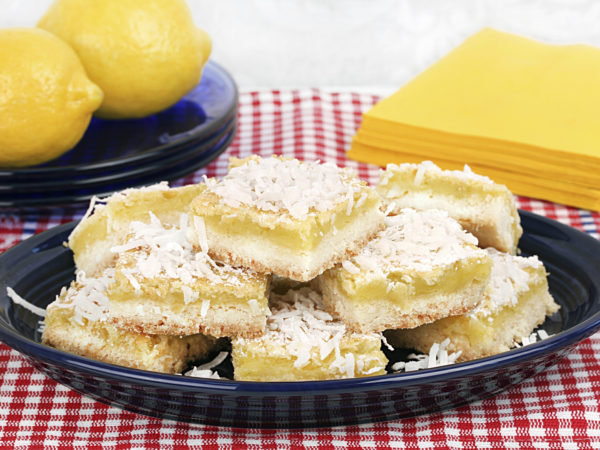 Nutrition
Serves 16
Nutrients per serving:
Calories 118
Protein 2g
Saturated Fat 1.3g
Monounsat Fat 1.5g
Polyunsat Fat .25g
Carbohydrate 20g
Fiber 0.8g
Cholesterol 0mg
Vitamin A IU 0.2
Vitamin E 0.2
Vitamin C 0.05mg
Calcium 1.28mg
Magnesium 2.34mg
This recipe is courtesy of Dr. Weil's cookbook: FAST FOOD GOOD FOOD.
This is a healthier riff on the classic lemon bar using olive oil, ground hazelnuts, and coconut.
This is a healthier riff on the classic lemon bar. Instead of butter, it uses olive oil, ground hazelnuts, and coconut to create a satisfying shortbread crust. The lemon-curd custard is made with much less sugar than usual. A very satisfying treat. A Fast Food Good Food exclusive! 
Ingredients
Crust
1/2 cup rolled oats
3 tablespoon hazelnuts
1 tablespoon plus 1 teaspoon all-purpose flour
1/4 teaspoon sea salt
6 tablespoons shredded unsweetened coconuts
4 1/2 tablespoons grade B maple syrup
1 1/2 tablespoons extra-virgin olive oil
Filling
1 tablespoon plus 1 teaspoon grates lemon zest
3/4 cup lemon juice
3/4 cup grade B maple syrup
4 large eggs
6 tablespoons all-purpose flour, sifted
1/8 teaspoon sea salt
2 tablespoons toasted coconut
Instructions
1. Preheat the oven to 375°F. Lightly oil an 8-by-8-inch square baking pan.
2. Pulse the oats, hazelnuts, flour, and salt together in a food processor until the ingredients resemble a coarse meal. Add the coconuts, maple syrup, and oil and pulse until all the ingredients are evenly moist but still crumbly-looking.
3. Transfer the mixture to the pan and press it evenly and firmly into the bottom with wet fingers to prevent it sticking to you. Bake for 15 to 16 minutes or until set. Remove from the oven and let cool, but keep the oven on.
4. With a stand or a hand mixer, beat the filling ingredients except the toasted coconut until fluffy and well combined. Pour the filling over the crust and bake for 15 minutes or until set.
5. Let cool completely and top with toasted coconut. Cut into 16 squares. These store well in the freezer. Wrap squares individually in wax paper or parchment, seal in a zip-top bag, and freeze for up to a month.