Chocolate Banana Tart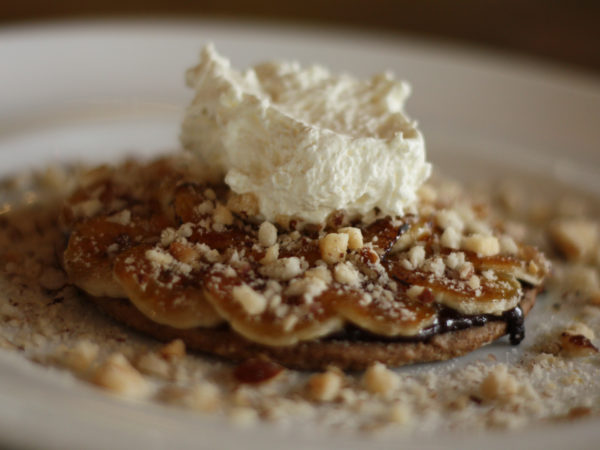 Nutrition
Serves 6
Nutrients Per Serving:
Calories 519
Fat 25g
Saturated Fat 12g
Protein 10g
Carbohydrate 66g
Cholesterol 135mg
Fiber 8g
This recipe is courtesy of Dr. Weil's True Food Kitchen restaurant in Phoenix, Arizona.
Mesquite flour pastry disks, chocolate ganache, bananas, Brazil nuts and whipped cream make this a tasty treat!
Finding interesting regional products like mesquite flour and integrating them into novel dishes such as this banana tart is one of the most rewarding parts of my work. Mesquite flour is made from the flat, dried pods of the mesquite tree – the whole pods are ground to create a dark, rich flour that is subtly sweet, with fruity overtones. Mesquite flour is combined here with spelt flour to make round pastry disks, which are frosted with chocolate ganache, then topped with bananas, Brazil nuts, a dollop of whipped cream.

If you don't have mesquite and spelt flours, substitute whole wheat pastry flour for the mesquite and whole wheat flour for the spelt.

Food as Medicine

Bananas are rich in potassium – one banana contains 450 mg, one-fifth of the adult daily requirement – and offer a fair share of magnesium (33 mg), too. Chocolate is a good source of polyphenols. The fat it contains is mostly stearic acid, which doesn't raise cholesterol levels. And a recent study indicates that compounds called flavonoids in dark chocolate are good for the heart. They reduce the stickiness of platelets, inhibiting blood clotting and reducing the danger of coronary artery blockages.
Ingredients
3/4 cup spelt flour
1/3 cup mesquite flour
1/2 cup old-fashioned rolled oats
1/4 teaspoon baking soda
1/4 teaspoon baking powder
1/4 teaspoon salt
1/3 cup (5 1/3 tablespoons) unsalted, butter, cubed and softened
1/2 cup plus 2 tablespoons evaporated cane sugar
1 1/2 teaspoons *agave nectar
3 large eggs
1/4 teaspoon vanilla extract
3 tablespoons finely chopped plus 1/4 cup chopped raw Brazil nuts
3 bananas, thinly sliced
GANACHE
3/4 cup heavy cream
2 ounces 70% organic dark chocolate, broken up into small pieces
Instructions
Preheat the oven to 300 degrees F. Line two baking sheets with silicone baking mats or parchment paper.
Stir the flours, oats, baking soda, baking powder, and salt together in a bowl.
In a standing mixer, combine the butter and 1/2 cup of the sugar. Cream the mixture until light in color and smooth, about 4 minutes. Add the agave and blend.
Add the eggs one at a time, blending between each addition.
Add the vanilla. On low speed, add the flour mixture and mix until the batter is the consistency of cookie dough.
Using a spatula, fold in the 3 tablespoons finely chopped nuts by hand. Turn the dough out onto a lightly floured work surface and flatten into a disk. Wrap in plastic wrap and refrigerate for 2 hours.
Turn the dough out onto a lightly floured work surface. Using a rolling pin, roll out the dough to a 1/4-inch thickness. Using a 3-inch round cookie cutter, cut out 6 pastry bases. Using a large spatula, place the dough on the prepared baking sheets and bake until golden brown, about 8 minutes. Transfer the pastry rounds to a wire rack to cool.
For ganache and banana-nut topping:
To make the ganache, bring 1/4 cup of the cream to a boil in a saucepan. Remove from the heat. Add the chocolate to the cream and let sit for 3 to 5 minutes so the chocolate melts. Whisk together until smooth. Set aside.
Preheat the over to broil.
To assemble the tarts, place the pastry rounds back on the baking sheets and divide the ganache among the pastry rounds, using an offset spatula or dinner knife to spread the ganache in the pinwheel pattern. Sprinkle the remaining 2 tablespoons sugar over the bananas and put the tarts under the broiler for 30 seconds to brown the tops. Watch them carefully so they don't burn.
Whip the remaining 1/2 cup cream to soft peaks, and add a spoonful to each tart. Garnish with the 1/4 cups chopped nuts before serving.
Bring half and half to simmer. Pour over chocolate & mix with a spoon to melt chocolate. Allow to cool.
Cut three bananas into thin slices. Spread ganache over cookies & top with banana slices. Sprinkle with raw sugar & caramelize with a blow torch. Sprinkle with nuts and top with fresh whipped cream if desired.
* In light of recent research, Dr. Weil no longer recommends agave nectar and suggests substituting an equivalent amount of maple or glucose syrup.