Chocolate Flourless Cake & Berry Compote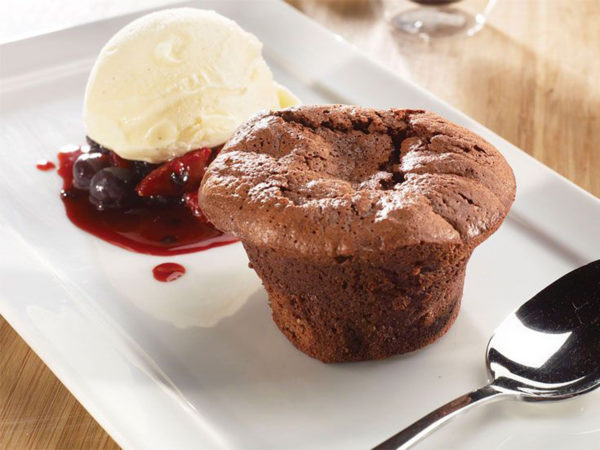 This cake is rich with dark chocolate and luscious almond butter and fresh berries. A great non-guilty pleasure! Enjoy in moderation.
Made with high-quality, unadulterated dark chocolate, and luscious almond butter, this cake is rich, yet more healthful than its flour-filled counterparts. Topped with a fresh berry compote, this flourless cake is a non-guilty pleasure. From True Food Kitchen.
Food as Medicine

Chocolate, made from seeds of the cacao tree, is a rich source of polyphenols that may help reduce chronic inflammation. It also appears to make blood cells less likely to clump into clots that can block arteries.
Ingredients
6 ounces dark chocolate, at least 70%
3 ounces butter
3 ounces almond butter
3 eggs, separated
6 tablespoons natural cane sugar
1 teaspoon vanilla extract
FRESH BERRY COMPOTE
1 cup frozen raspberries, defrosted
2 tablespoons pure cane sugar
1/4 cup water
3 cups fresh berries – blueberries, raspberries, blackberries
Instructions
Over a double boiler, melt chocolate, butter and almond butter. Let cool.
Separate the egg and place the yolks in the bowl of an electric mixer. Add 3 Tbs sugar and beat until a light, pale yellow color, about 6 minutes. Slowly pour in the melted chocolate and mix until combined.
In a clean mixing bowl, add the eggs whites. Whisk until frothy. Slowly pour in 3 Tbs sugar and mix until soft peaks form. Fold the whites into the chocolate/egg mixture. Carefully fold until combined.
Spray 4 oz ramekin or muffin cups with pan spray. Pour the batter into the molds, almost to the top. Bake at 325 degrees for 12 minutes. Let cool before unmolding.
To serve: reheat at 300 degrees for 4 minutes. Spoon the fruit compote on top.