Creamy Tomato Soup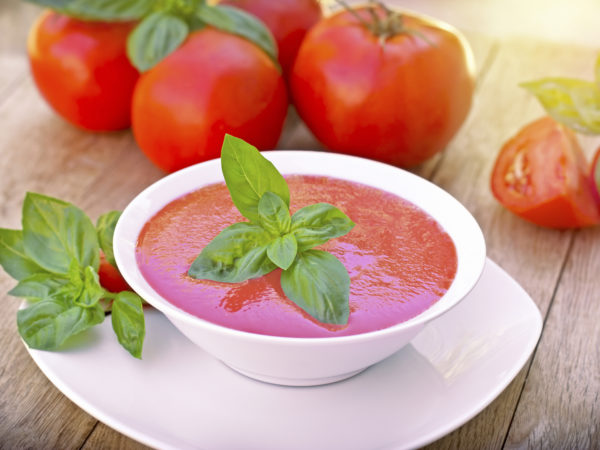 Nutrition
Serves 4
Nutrients Per Serving
Calories: 147.6
Protein: 5.5 grams
Fat: 5.9 grams
Saturated Fat: 0.8 grams
Monounsat Fat: 2.9 grams
Polyunsat Fat: 1.4 grams
Carbohydrate: 22.7 grams
Fiber: 5.9 grams
Cholesterol: 0.0 mg
Vitamin A: 2,622.3 IU
Vitamin E: 2.0 mg/IU
Vitamin C: 81.4 mg
Calcium: 32.8 mg
Tomato soup is a comfort food for many people. It is comforting as well to know how nutritious and wholesome it is, particularly when prepared with soy milk.
A good, creamy tomato soup is a must in everyon'e recipe box. If you can't find juicy, ripe Italian or Roma tomatoes, use a high-quality organic tomato (in jars) instead. The addition of sun-dried tomatoes adds a rich depth to your everyday tomato soup! Often served with a grilled cheese sandwhich, Dr. Weil finds a good sharp cheddar, cubed and a green salad best to complement this soup. Good hot or cold!
Food as Medicine
A study published in the British Journal of Nutrition revealed that a high dietary intake of tomato products reduced total and LDL cholesterol levels. The lycopene in tomatoes has gotten attention recently for its ability to protect against prostate cancer and other diseases.
Ingredients
8 sun-dried tomatoes (not oil-packed)
1 large onion, chopped
1 tablespoon extra-virgin olive oil
3 pounds fresh, ripe Italian tomatoes, chopped
1 cup soy milk
Salt and black and red pepper to taste
3 tablespoons fresh parsley, basil, or dill, chopped
Instructions
1. Cover sun-dried tomatoes with boiling water. Let soak for at least 15 minutes.
2. In a large pot, sauté the onion in the olive oil until soft. Add the chopped tomatoes. Continue to cook over medium heat, stirring, until the mixture boils.
3. Remove the dried tomatoes from their soaking water and chop them coarsely. Add them and their soaking water to the pot and cook, stirring to prevent sticking.
4. Reduce heat to low, cover, and simmer for 30 minutes. Add the soy milk and season to taste with salt and black and red pepper.
5. Serve in bowls with the chopped green herbs as garnish.