Quinoa Tabbouleh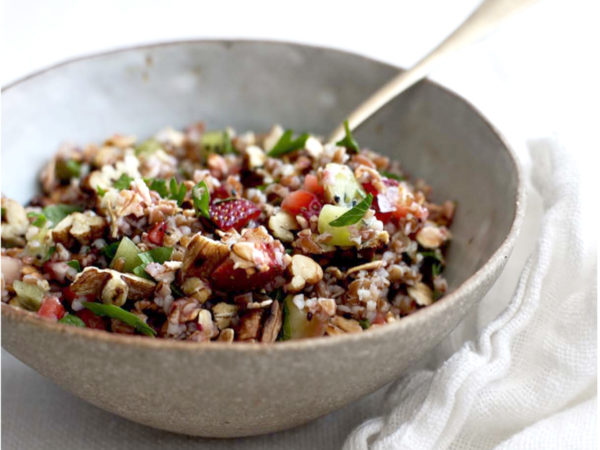 Nutrition
Serves 4-6
Nutrients Per Serving:
Calories 403
Fat 23 grams
Saturated Fat 2.7 grams
(49.0% of calories from fat)
Protein 9.0 grams
Carbohydrate 44.6 grams
Cholesterol 0 mgs
Fiber 7 grams
This recipe is from Dr. Weil's cookbook: True Food: Seasonal, Sustainable, Simple, Pure.
This recipe is a vegetable-and-herb-packed salad that makes a satisfying main course for lunch.
Traditional tabbouleh is made with bulgur wheat. Quinoa, a native grain of the high Andes, is higher in protein than bulgur wheat, gluten-free, and quinoa is easy to cook. The red variety is particularly attractive in this vegetable-and-herb-packed salad. This makes a satisfying main course for lunch.
Food as Medicine
Quinoa is high in magnesium – which helps relax blood vessels, resulting in fewer headaches for migraine sufferers and decreased risk of hypertension and stroke. It is also a good source of manganese, iron, copper, phosphorous, and riboflavin.
Ingredients
1 pound beets
2 cups red quinoa
1⁄2 cup extra-virgin olive oil
1⁄4 cup freshly squeezed lemon juice
3 garlic cloves, mashed
1⁄2 teaspoon salt
pinch of red pepper flakes
1⁄3 cup chopped fresh Italian parsley
1⁄4 cup chopped fresh mint
3 scallions, chopped
2 ounces arugula
1⁄2 pomegranate, seeds removed and reserved
1⁄4 cup chopped Marcona almonds
Instructions
Preheat the oven to 350° F. Line a baking sheet with aluminum foil.
Pierce the beets in a few places with a fork. Bake for 45 minutes to one hour, until tender and easily pierced with a knife.
Remove the beets from the oven and allow to cool for 20 minutes. Use paper towels to peel off the skins or your hands will be pink for days. Cut into cubes and set aside.
Meanwhile, bring four cups salted water to a boil. Add the quinoa. Lower the heat, cover, and simmer for 20 minutes, until the quinoa is dry and fluffy. Let cool.
In a salad bowl, whisk together the oil, lemon juice, garlic, salt, and red pepper flakes.
Add the beets, quinoa, parsley, mint, scallions, and arugula and toss well to combine.
Divide the salad among serving plates. Top with pomegranate seeds and almonds before serving.
Makes 4 to 6 servings