Black Sesame Smoothie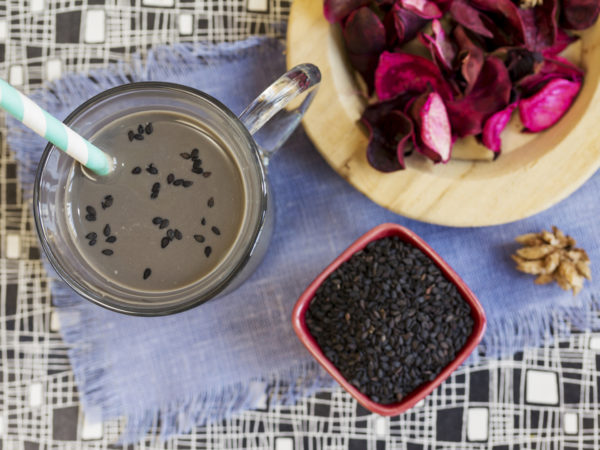 Nutrition
Serves 2
Nutrients per serving:
Calories 429
Protein 14g
Saturated Fat 9.5g
Monounsat Fat .04g
Polyunsat Fat .21g
Carbohydrate 49g
Fiber 6g
Cholesterol 30mg
Vitamin A IU 1103
Vitamin E 0.00
Vitamin C 10.57mg
Calcium 613.42mg
Magnesium 63.18mg
This recipe is courtesy of Dr. Weil's cookbook: FAST FOOD GOOD FOOD.
This smoothie is rich and satisfying. Ground up black sesame seeds enhance the appearance, texture and taste.
Rich and satisfying, this smoothie needs little added sweetener if the bananas are very ripe (with thin, heavily spotted skins and no green ends). Ground black sesame seeds enhance the appearance, texture, and taste of the drink. It is good with breakfast or in the afternoons for a quick energy boost. A Fast Food Good Food exclusive! 
Ingredients
1/4 cup black sesame seeds
2 large, very ripe bananas
2 1/2 cups soymilk or cashew milk
1/4 cup kefir
1 teaspoon grade B maple syrup
4 to 6 ice cubes
Instructions
1. In a dry skillet, lightly toast the sesame seeds over medium heat until fragrant. Let them cool for a minute, then grind as fine as possible in an electric spice grinder.
2. Place all the ingredients in a blender and blend until smooth., adding more soymilk or cashew milk by the tablespoon until you reach a nice creamy consistency.
3. Pour into 2 chilled glasses and serve.