Blueberry Pie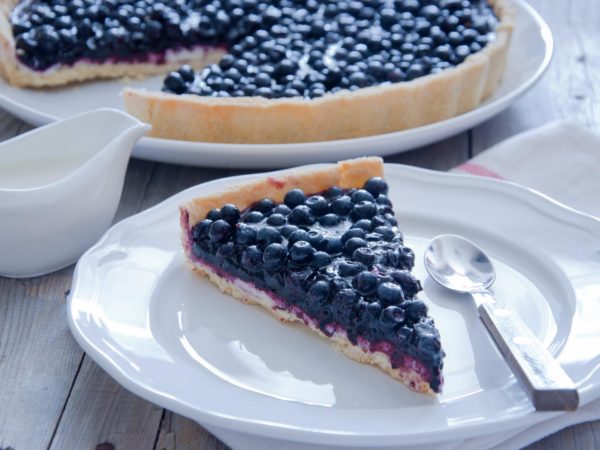 Nutrition
Serves 8
Nutrients Per Serving
Calories: 162.6
Protein: 1.6 grams
Fat: 2.3 grams
Saturated Fat: 0.4grams
Monounsat Fat: 0.9 grams
Polyunsat Fat: 0.7grams
Carbohydrate: 36.2 grams
Fiber: 2.7 grams
Cholesterol: 0.0 mg
Vitamin A: 86.9 IU
Vitamin E: 1.1 mg/IU
Vitamin C: 12.5 mg
Calcium: 23.9 mg
Magnesium: 13.5 mg
Can pie be healthy? Try this one, featuring antioxidant-rich blueberries, fresh lemon juice for tartness and a modest amount of sugar. Blueberries are among the most antioxidant-rich foods in the world and this pie is full of these dark-blue gems!

This delightful pie is chock full of these dark-blue gems. The cooked and cooled filling is poured into a nine-inch baked pie crust. Our recipe for Easy Pie Crust makes two nine-inch crusts. If you have two pie pans, bake both crusts. Use one for this pie and wrap and freeze the other for another pie, another day!
Food as Medicine
Red wine is correctly promoted as heart-healthy because it is a good source of antioxidants known as anthocyanins. But a study published in the Journal of Food Chemistry found that a wine made from blueberries delivers 38 percent more of these free-radical fighters. Blueberries are among the most antioxidant-rich foods in the world. Their healthy benefits come from anthocyanins, the natural pigments which give them their color, and loads of vitamin C.
Ingredients
1 1/2 pounds fresh or frozen blueberries
1/2 cup light brown sugar
Juice of  1/2 fresh lemon
1 teaspoon cinnamon
2 tablespoons cornstarch or arrowroot powder
2 tablespoons cold water
1 baked Easy Pie Crust (1/2 the recipe)
Instructions
1. Heat the blueberries in a saucepan over medium heat until they begin to boil. Simmer gently for 10 minutes.
2. Add the sugar, lemon juice, and cinnamon, and cook for another 2 minutes.
3. Mix the cornstarch or arrowroot well with the water, and pour mixture into the simmering blueberries while stirring. Cook, stirring, until mixture becomes clear and thick. Continue to cook for 1 minute. Remove from heat and cool.
4. Spoon mixture into the pie crust (recipe for Easy Pie Crust) and refrigerate for at least 2 hours before serving.