Orange And Sea Buckthorn Sorbet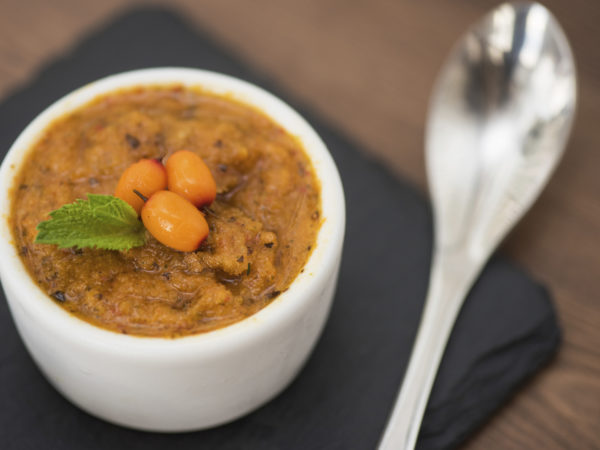 Nutrition
Makes one quart, or 4 to 6 servings.
Nutrients per serving:
Calories 39.70
Total Fat .33g
Saturated Fat 0.025g
Polyunsaturated Fat 0.025g
Monounsaturated Fat 0.025g
Cholesterol 0.0mg
Sodium 0.075mg
Potassium 88.7mg
Total Carbohydrate 9.25g
Dietary Fiber 0.1g
Sugars 8.67g
Protein 0.38g
This recipe is reprinted courtesy of Dr. Weil's True Food: Seasonal, Sustainable, Simple, Pure.
This unique orange and sea buckthorn sorbet is a truly sublime balance between tart and sweet, perfect for a refreshing, post-meal bite.
Andy introduced the True Food Kitchen test kitchen to sea buckthorn juice and asked if the chefs could do anything with it. The flavor is definitely assertive – sharply sour and pungent, like dried apricots. At first we thought it would overwhelm almost anything, but with a little experimentation, we found that sea buckthorn enhances the flavor of citrus fruits. The vanilla bean adds richness and smoothes out the acidity. A True Food Kitchen cookbook exclusive!
Ingredients
3 cups freshly squeezed orange juice
1/3 cup sea buckthorn juice
1/4 cup agave nectar*
Vanilla bean seeds scraped from 2 halved vanilla beans
Instructions
Chill the ice cream machine canister in the freezer according to the manufacturer's directions.
Whisk together all of the ingredients in a bowl. Chill the mixture for 2 to 4 hours; it must be cold before going into the ice cream machine.
Pour the mixture into the machine's frozen canister and freeze according to the manufacturer's directions.
* In light of recent research, Dr. Weil no longer recommends agave nectar and suggests substituting an equivalent amount of maple or glucose syrup.