Cyclone Cider Deluxe (Vinegar)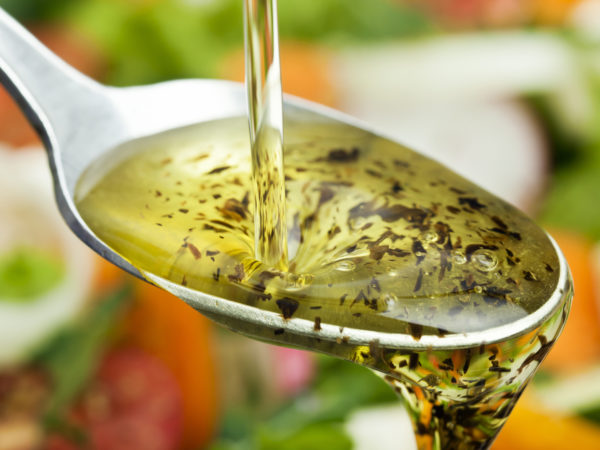 Nutrition
Recipe courtesy of "Healing Tonics" by Jeanine Pollak (Storey Publishing, 2000)
This healing tonic is a favorite, serving as both a syrup and a great addition to soups, stews, and more!
This healing tonic is a variation on an old favorite among herbalists, serving as both a syrup and as a very interesting addition to soups, stews, salad dressings and marinades. Make it 2-4 weeks ahead so the vinegar can steep.
Food as Medicine
Ginger tones the cardiovascular system and reduces platelet aggregation, as aspirin does; it is also an effective anti-nausea agent. Garlic – high in health-promoting sulfur compounds – is a potent antimicrobial, especially active against fungal infections, with antibacterial and antiviral effects as well. Cayenne peppers are an excellent source of both immunity-boosting vitamin A and the anti-inflammatory substance capsaicin.
Ingredients
1/4 cup grated fresh ginger root
1/4 cup chopped onion
1/4 cup fresh rosemary leaves
1/8 cup fresh sage leaves
1/8 cup grated fresh horseradish
4 slices fresh organic lemon
4 slices fresh organic orange
4-6 fresh peeled garlic cloves
2-4 cayenne peppers
Apple cider vinegar
Honey or maple syrup
Instructions
1. Place all herbs, fruits and vegetables into a wide-mouthed jar. Cover with 2-3 times as much apple cider vinegar.
2. Place plastic wrap over jar and then secure tightly with a lid. Shake daily for 2-4 weeks. Store at room temperature out of direct heat and light.
3. Strain, squeezing all liquid possible out of the herbs.
4. Discard herbs and rebottle the vinegar. Add honey to taste, enough to make a syrupy consistency (roughly equal parts vinegar and honey).
To use: Take 1-2 tablespoons as needed, or add to soups, sauces, marinades or dressings.