Clam Chowder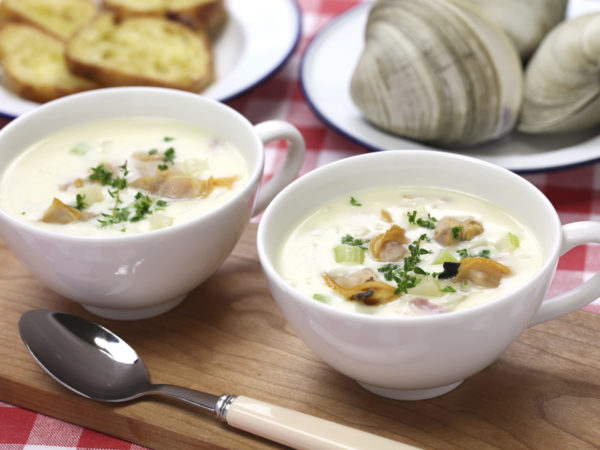 Nutrition
Manhattan Clam Chowder
Serves 6
Nutrients Per Serving:
Calories 268.3
Fat 4.2g
Saturated Fat 0.5g
(16.4% of Calories from Fat)
Protein 22.4g
Carbohydrate 25.9g
Cholesterol 51mg
Fiber 2.7g
New England Clam Chowder
Serves 6
Per Serving:
Calories 449.9
Fat 23.9
Saturated Fat 12.9g
(52.0% of calories from fat)
Protein 23.8g
Carbohydrate 25.9g
Cholesterol 121mg
Fiber 2.1g
This recipe is from THE HEALTHY KITCHEN – Recipes for a Better Body, Life, and Spirit by Andrew Weil, M.D and Rosie Daley (Knopf)
This is a easy recipe for a traditional classic, clam chowder!
The two types of clam chowder are Manhattan clam chowder (with tomatoes) and New England (with milk and cream). It is simply a matter of taste as to which one you choose to make. Ideally, clam chowder should be made with fresh clams, but you also can make it with canned clams.
Food as Medicine
Clams are mineral powerhouses, with abundant amounts of phosphorus, potassium, copper and selenium
Ingredients
1 cup chopped onion
2 cloves garlic, chopped
1 tablespoon clarified butter or extra-virgin olive oil
1/2 cup chopped celery
1 teaspoon dried thyme
1/4 cup unbleached white flour
3 cups purified water
1 1/2 cups peeled, cubed potatoes
2 cups half-and-half or 2 cups chopped fresh tomatoes
2 pounds fresh clams or mussels or one 16-ounce can minced clams
1 1/2 cups white wine
1 teaspoon Worcestershire sauce
1/8 teaspoon Tabasco sauce (optional)
1/4 teaspoon freshly ground black pepper
GARNISH
2 tablespoons chopped fresh parsley
Instructions
1. Put the onions, garlic and clarified butter or olive oil in a big, heavy pot.
2. Sauté on low heat for 2 minutes. Add the celery and thyme and cook for 3 minutes, stirring occasionally. Sprinkle the flour on top of the vegetables.
3. Pour the water in slowly and use a whisk to break up the clumps of flour. Add the potatoes and then turn up the heat to medium-high until mixture comes to a boil. Boil for 10 minutes, then turn down the heat.
4. Add the half-and-half or tomatoes, depending on which style chowder you are making. Simmer, covered, for 20 minutes or until the potatoes are cooked completely.
6. Meanwhile, if you are using fresh shellfish, soak the clams or mussels in a large pot full of cold water for 5 minutes. Scrub the shells with a vegetable scrubber or the abrasive side of a clean sponge to remove any seaweed or mud.
7. Put the clams or mussels and the wine in a large, lidded pot with enough space to hold them without them being cramped.
8. Steam until the shellfish open up, about 10 minutes. Discard any shellfish that remain closed. Take the shellfish out of the pot and reserve the cooking liquid.
9. Remove the clams from their shells, setting aside a few to garnish each bowl, if you wish and add the clam meat and the reserved liquid to the rest of the soup. Cook the soup for an additional 5 minutes.
10. Season with the Worcestershire sauce, Tabasco sauce, and black pepper. Garnish with fresh parsley and (optional) clams in their shells.
Tips from Rosie's Kitchen
In almost every fishing town, local restaurants serve a fish stew special. It usually is a chowder-based soup with a fresh, white fish, such as halibut, cooked in. The addition of fresh fish to clam chowder is optional, though it adds a mild, yet richer, fish taste. With or without the fresh fish, this is a full-bodied soup.
Want more healthy, delicious recipes? Join the Dr. Weil on Healthy Aging online guide for access to hundreds of anti-inflammatory recipes and our exclusive eating guides. Sign up today and get 14 days free!