Stuffed Mushroom Caps With Couscous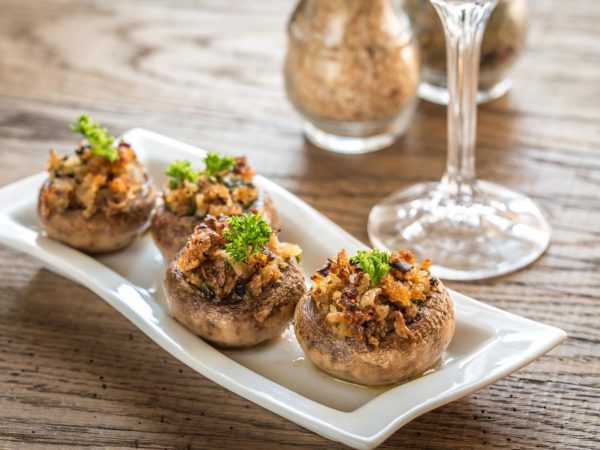 Nutrition
Serves 6
Nutrients Per Serving:
Calories 106.9
Fat 5.7g
Saturated Fat 0.9g
(53.4% of calories from fat)
Protein 2.6g
Carbohydrate 9.6g
Cholesterol 1mg
Fiber 1g
This recipe is from THE HEALTHY KITCHEN – Recipes for a Better Body, Life, and Spirit by Andrew Weil, M.D and Rosie Daley (Knopf)
When the stuffed mushrooms are baked, the full flavor of the couscous and the mushrooms really come through!
Couscous is a pasta shaped like tiny spheres that comes from North Africa. It makes a great stuffing, especially for a small cavity like a mushroom, because it's so moist. When the stuffed mushrooms are baked, the full flavor of the couscous and the mushrooms really come through. These will go fast!
Food as Medicine
Walnuts are an excellent source of both omega-3 fatty acids and l-arginine, an essential amino acid that may help in moderating high blood pressure.
Ingredients
1/4 cup chopped walnuts
2 tablespoons extra-virgin olive oil
2 cloves garlic, minced
3 shallots, chopped
1 1/2 tablespoons natural soy sauce (such as tamari)
1 cup white wine
12 medium small-capped mushrooms, washed and stems removed
1/2 cup vegetable stock or purified water
1/4 cup couscous
Salt
Freshly ground pepper
2 tablespoons chopped fresh basil
1 bunch fresh parsley, chopped
1/4 cup freshly grated Parmesan cheese
Instructions
Preheat the oven to 350° F.
Spread the walnuts on a baking sheet and roast them for 5 minutes, just until they turn slightly more brown.
Pour them into a small bowl.
Set a large sauce pan with the olive oil over low heat for less than 1 minute. Drop in the garlic and the shallots.
Add the soy sauce, wine, and mushrooms and simmer covered until the mushrooms are tender, about 10 minutes.
Use a slotted spoon to shake the mushrooms so that the cooking liquid falls back into the pan, then transfer the drained mushrooms to a baking dish, arranging them hollow side up. Reserve the liquid in the pan.
Cook the couscous by bringing the vegetable stock or water to a boil in a separate pot.
Pour in the couscous, lower the heat, and simmer covered for 2 minutes. Remove from the heat and let stand, covered, for 10 minutes. All the liquid should be absorbed.
Now, dump the couscous into the saucepan with the reserved liquid, cover, and cook over low heat until all the liquid is absorbed.
Lightly salt and pepper the mushroom caps. Finish the stuffing by mixing the nuts, herbs and Parmesan cheese into the cooked couscous.
Using a tablespoon, pile a small mound of filling inside the cap of each mushroom. Bake for 10 minutes or until the stuffing is lightly browned on top.
Makes 12 mushroom caps – 2 per person