Carrot-Banana Muffins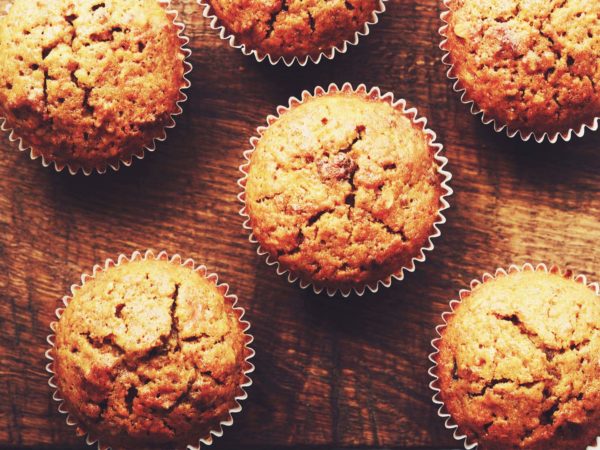 Nutrition
Makes 12 Large Muffins
Nutritional information per muffin:
Calories: 310
Total Fat: 21g (6g saturated, 0.9g monounsaturated)
Carbohydrates: 28g
Protein: 7g
Fiber: 4.7g
Sodium: 331mg
These Carrot-Banana Muffins are low in carbohydrates compared to standard versions, full of fruits and nuts, and very tasty.
My wife, Ally, is always baking something at home, so our kitchen is essentially the True Food pastry R&D (research and development) headquarters. Although she is a professionally trained chef, she has become interested in a new way of cooking and eating that Andy has told us about. The paleo or primal approach to eating aims to reproduce the diet of our hunter-gatherer ancestors: lots of vegetables and moderate amounts of meat, fish, and eggs, along with fruit and small portions of nuts, but little or no grains or dairy. These muffins, which are low in carbohydrates compared to standard versions, fill the bill. (Chef, Michael Stebner.) A True Food Kitchen exclusive!
Ingredients
2 cups almond flour (also called almond meal)
2 teaspoons baking soda
1/2 teaspoon salt
1 tablespoon ground cinnamon
1/2 cup shredded unsweetened coconut
3 large eggs
3 bananas, mashed
1/2 cup (8 tablespoons) unsalted butter
2 tablespoons raw honey
1 teaspoon apple cider vinegar
1 1/4 cups pitted and chopped dates
2 medium carrots, shredded
3/4 chopped walnuts
Instructions
Preheat the oven to 325 Lightly oil a 12-cup muffin pan with expeller-pressed canola oil or line with paper liners.
In a large bowl,mix together the almond flour, baking soda, salt, cinnamon, and coconut. In an- other bowl, whisk the eggs, bananas, butter, honey, and vinegar. Stir the wet ingredients into the dry ones. Fold in the dates, carrots, and walnuts. Divide the batter among the muffin cups.
Bake for 40 minutes, until golden brown or a skewer inserted into the center of a muffin comes out clean. (Since there's no actual flour, the muffins will not rise significantly.) Cool in the pan on a wire rack for 5 minutes, then turn out the muffins onto the rack and let cool to warm or room temperature.