Thai Egg Salad With Sugar Snap Peas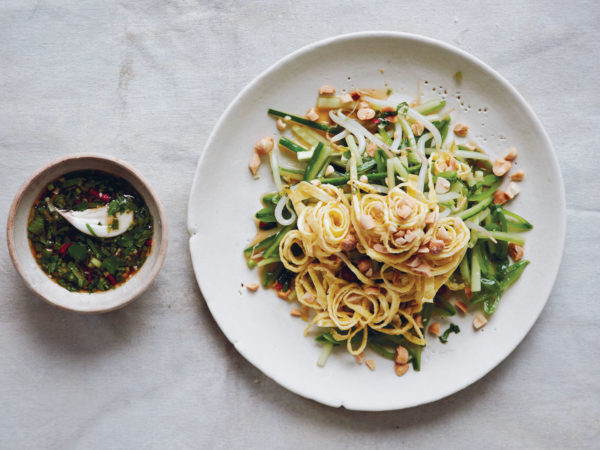 Colorful and fresh, fragrant and delicious, this novel egg salad makes a satisfying one-dish meal.
It probably won't be like any egg salad you've ever tasted. Thin, plain "omelets" are shredded and placed atop a mound of chilled, sliced raw vegetables, dressed with a vibrant mixture of flavors characteristic of Thai cuisine: basil, spearmint, cilantro, chili, garlic, fish sauce, lime juice, and sugar – with chopped nuts as a garnish. A lot of slicing and chopping, but the result is worth it.
Ingredients
SALAD
2 English cucumbers, peeled and thinly sliced
1½ cups sugar snap peas, cut on the bias into ½-inch slices
2 carrots, peeled and julienned
½ cup tightly packed fresh spearmint leaves, sliced
½ cup tightly packed fresh basil leaves, sliced
½ cup tightly packed fresh cilantro leaves, roughly chopped
1 cup bean sprouts
4 large eggs
4 teaspoons organic, unrefined, cold-pressed avocado oil
3 scallions, white and light green parts, thinly sliced on the bias
¼ cup chopped dry-roasted unsalted peanuts or cashews
DRESSING
2 garlic cloves, pressed and allowed to sit for 10 minutes
3 tablespoons fish sauce
¼ cup lime juice
1 tablespoon evaporated cane sugar
Pinch of cayenne pepper, to taste
¼ cup organic, unrefined, cold-pressed avocado oil
Instructions
In a large bowl, combine the cucumbers, snap peas, carrots, spearmint, basil, and cilantro. Place in the refrigerator to chill.
Bring a small pot of water to a boil and blanch the sprouts for 30 seconds. Drain, plunge in cold water, drain again, and dry with paper or kitchen towel. Add sprouts to the rest of the vegetables in the refrigerator.
Whisk together the dressing ingredients and let stand on the counter.
Crack the eggs into a bowl and whisk them well. Heat 1 teaspoon of the avocado oil in a large nonstick pan over medium heat and pour in ¼ of the egg mixture. Tilt the pan to spread the egg into a thin circle and cook for 1 to 2 minutes or until fully set. Use a spatula to remove the egg and lay it flat on a plate. Repeat with the remaining oil and eggs. Once all are cooked, roll up the egg circles into cigars and thinly shred them.
Pour the dressing over the chilled vegetables and gently toss. Divide among 4 plates and top with the eggs, scallions, and nuts.
Excerpted from Fast Food, Good Food, copyright © 2015 by Dr. Andrew Weil. Photography courtesy of Ditte Isager. Used with permission of Little, Brown and Company, New York. All rights reserved.