Penne a la Broccoli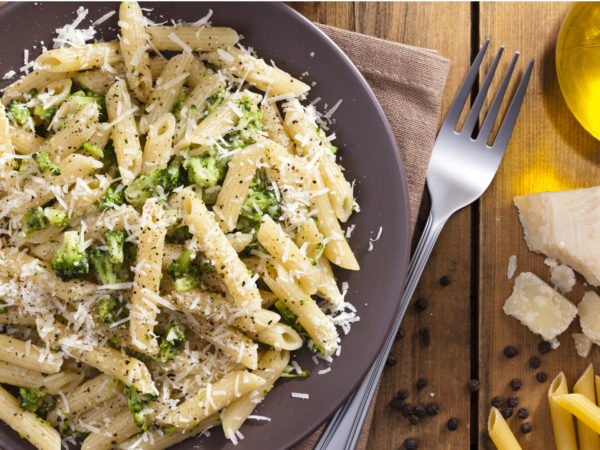 Nutrition
Serves 4
Nutrients Per Serving
Calories: 504.6
Protein: 17.4 grams
Fat: 5.8 grams
Saturated Fat: 0.8 grams
Monounsat Fat: 2.8 grams
Polyunsat Fat: 1.3 grams
Carbohydrate: 95.4 grams
Fiber: 7.4 grams
Cholesterol: 0.0 mg
Vitamin A: 956.0 IU
Vitamin E: 0.9 mg/IU
Vitamin C: 59.7 mg
Calcium: 63.3 mg
Magnesium: 74.3 mg

Looking for a fast, easy, healthy and inexpensive dinner idea? Look no further! This simple, hearty pasta dish may quickly become a family favorite.
This penne and broccoli recipe is an easy dinner when the fridge is empty and you don't have a lot of time. It is healthy and tasty – and uses on of Dr. Weil's favorite cruciferous vegetables: broccoli. Cauliflower, carrots and other veggies are some other options to consider in this recipe.
Food as Medicine
Consuming garlic may reduce the frequency and number of colds when used for prevention, while some evidence supports the topical use of garlic for fungal infections like ringworm and athlete's foot.
Ingredients
16 oz penne or other hearty pasta, uncooked
Large bunch of broccoli
1 tablespoon extra-virgin olive oil
Several cloves of garlic, chopped or mashed
1/2 cup water
Salt to taste
Red pepper flakes (optional)
Grated Parmesan cheese (optional)
Instructions
1. Cook the pasta in rapidly boiling water until al dente.
2. Trim the ends of the broccoli stems and cut off the flowers. Peel the outer fibrous layer off the main stalks and cut the stalks into bite-sized pieces.
3. Separate the flower of the broccoli into bite-sized pieces.
4. Place the broccoli in a colander and rinse under cold running water. Put it in a saucepan with the olive oil, garlic, water and salt. Bring to a boil, cover tightly, and let steam until the broccoli is bright green and very crunchy-tender – no more than 5 minutes. Remove the lid and boil off most of the remaining liquid.
5. Toss the broccoli with cooked pasta. Top with red pepper flakes and Parmesan cheese, if desired.