Red Thai Curry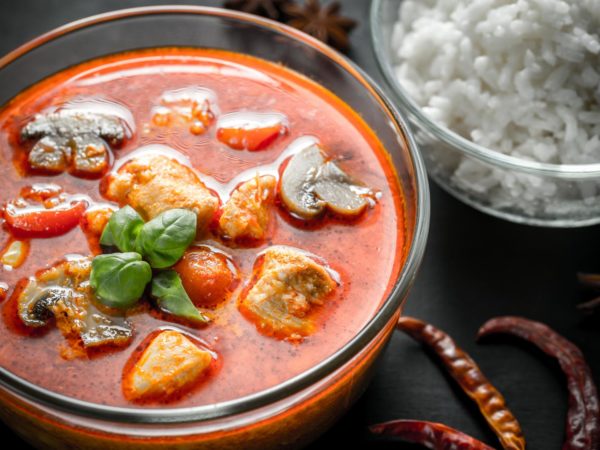 Nutrition
Serves 4
Nutrients per serving:
Calories 298
Protein 8g
Saturated Fat 7.5g
Monounsat Fat 1.15g
Polyunsat Fat 4.85g
Carbohydrate 25g
Fiber 2.5g
Cholesterol 0mg
Vitamin A IU 7366.8
Vitamin E 0.00
Vitamin C 154.45mg
Calcium 170.6mg
Magnesium 25.49mg
This recipe is courtesy of Dr. Weil's cookbook: FAST FOOD GOOD FOOD.
This curry comes together very quickly. Serve with rice or rice noodles to sop up the curry sauce.
Despite the long ingredient list, this curry comes together very quickly. Tofu is the protein called for here, but as variations salmon, shrimp, and chicken all work well. (In fact, this is a surefire way to poach salmon without overcooking.) The lime zest adds a distinctive Thai flavor. Serve with rice or rice noodles to sop up the curry sauce. A Fast Food Good Food exclusive! 
Ingredients
2 tablespoons grapeseed oil
1 tablespoon minced peeled ginger
3 garlic cloves, pressed and allowed to sit for 10 minutes
1 1/2 tablespoons Thai red curry paste
2 carrots, peeled and sliced on the bias
1 small Yukon gold potato, diced into 1/2-inch cubes
1 red bell pepper, seeded and diced into 1/2-inch pieces
2 (16-ounce) cans light coconut milk
2 tablespoons fish sauce
1 pound broccoli florets
8 ounces extra-firm tofu, cut into 3/4-inch cubes
2 teaspoons grated lime zest
1 tablespoon lime juice
1/2 teaspoon grade B maple syrup
4 scallions, white and light green parts only, thinly sliced on the bias
1/4 cup packed fresh cilantro leaves, coarsely chopped
Lime wedges
Instructions
1. Heat the oil in a large wide pan over medium heat. Add the ginger, garlic, and red curry paste, cook for 45 seconds, then add the carrots and saute for 3 minutes.
2. Add the potatoes and peppers, stir to coat, and saute for 2 minutes. Stir in the coconut milk, 1 cup of water, and the fish sauce and bring to a simmer. Cook, stirring occasionally, until the liquid is thickened and slightly reduced and the potatoes are just tender, about 8 minutes. Add the broccoli and tofu and cook, covered, until the broccoli is crisp-tender and the todu is heated through, about 2 minutes.
3. Remove from the heat and stir in the lime zest, lime juice, and maple syrup. Top each portion with scallions, chopped cilantro, and a lime wedge.