Green Squash Soup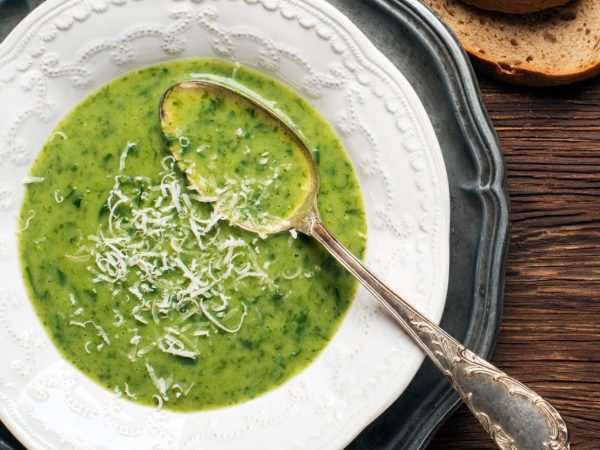 This soup is flavorful enough to serve as the main course, while remaining a light and refreshing seasonal choice. Very tasty the next day, if it lasts that long!
This is another easy, flavorful soup that can either be a first course or a main course in a meal with salad, bread, and cheese. Eat it right away; the fresh taste of the vegetables is what makes it appealing.
Food as Medicine
Zucchini contains small amounts of folate, potassium, and vitamin A. For those interested in a pasta substitute, zucchini can be spiral-cut and used as a low-carbohydrate alternative. It is relatively easy to grow and can produce an abundance of tasty squash with not too much effort.
Ingredients
1 medium leek, preferably organic
1 pound summer squash, such as zucchini, preferably organic
2 tablespoons extra virgin olive oil
Salt and freshly ground black pepper to taste
4 cups vegetable stock
1 tablespoon chopped fresh marjoram or 1 teaspoon dried marjoram
2 tablespoons artichoke purée (see Note*)
GARNISH
Freshly grated Parmesan cheese
Instructions
Remove the root end and green top part of the leek. Wash the white part of the leek well to remove any dirt, then chop it into fine pieces. Wash and trim the squash and chop it into medium-sized pieces.
Heat the olive oil in a skillet over medium heat. Add the chopped leek and sauté it until it is translucent. Add the squash and sauté, stirring, until the squash softens, about 10 minutes. Season with salt and pepper.
Add the stock and marjoram, heat to boiling, cover, reduce heat, and boil gently for 30 minutes. Add the artichoke purée and mix well.
Pour the soup into a food processor and process into a coarse purée. Serve the soup in warm bowls with freshly grated Parmesan cheese to garnish.
*Note: Artichoke purée is available in specialty grocery stores. You can also make your own simply by draining a jar of water-packed baby artichokes and grinding them in a blender or food processor. Store any leftover purée in the refrigerator and use it as a base for a pasta sauce or a dip for raw vegetables.