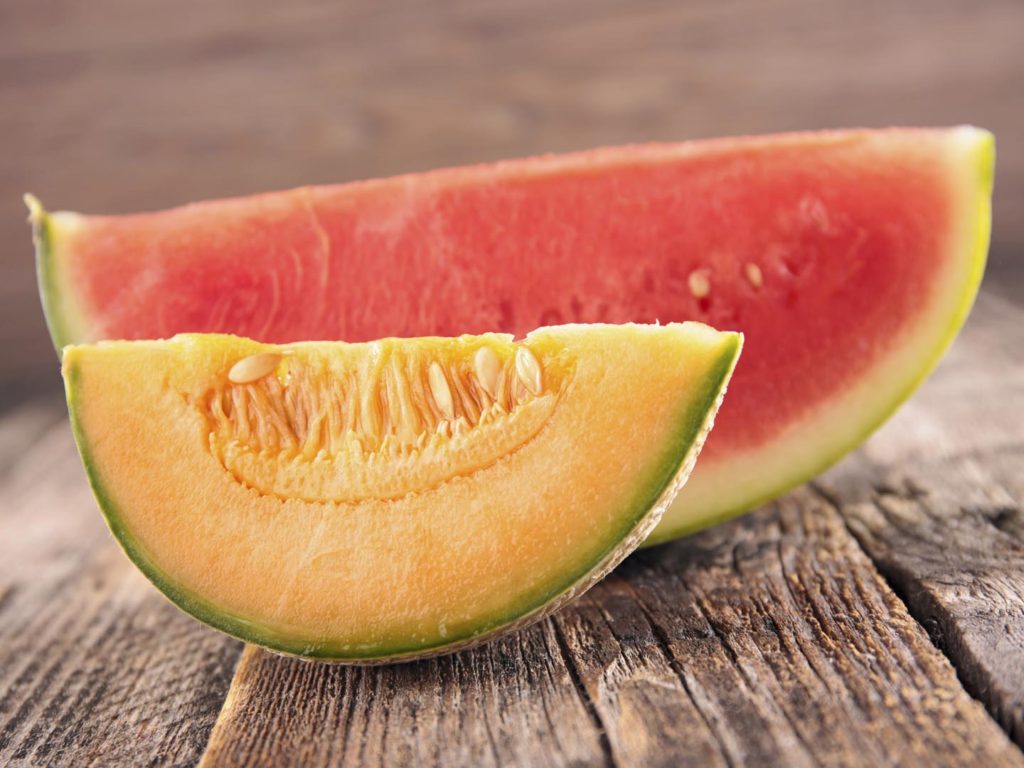 Summer Melon Soup
Nutrition
Serves 6
Nutrients Per Serving
Calories: 116.8 calories
Protein: 2.4 grams
Fat: 1.1 grams
Saturated Fat: 0.2 grams
Monounsat Fat: 0.2 grams
Polyunsat Fat: 0.4 grams
Carbohydrate: 27.9 grams
Fiber: 2.2 grams
Cholesterol: 0.0 mg
Vitamin A: 5,699.6 IU
Vitamin E: 0.6 mg/IU
Vitamin C: 99.5 mg
Calcium: 30.3 mg
Magnesium: 34.7 mg
This cool, refreshing soup captures the essence of summer. The addition of the jalapeños adds a surprising spark. Serve this soup with a cool entrée or as a pleasant dessert.

Food as Medicine
Like all fruit, melons help protect vision. Studies have shown that eating at least three servings of fruit – such as the cantaloupe and watermelon in this recipe – per day may lower your risk of age-related macular degeneration by over 35 percent. Cantaloupe and watermelon are also heart-healthy, thanks to their high concentrations of the vital antioxidants, vitamins A and C. Consumption of vitamin C-rich foods – one cup of cantaloupe has 112 percent of the Daily Value and one cup of watermelon has 24 percent – is associated with a decreased risk of death from all causes, including heart disease and stroke. Along with vitamin C, vitamin A helps prevent free radicals from oxidizing cholesterol in the bloodstream, where it can lead to heart attack or stroke. Watermelon is also high in the amino acid citrulline, a precursor for another amino acid, arginine. Arginine helps to produce nitric oxide, which relaxes blood vessels and lowers blood pressure.
Ingredients
4 cups ripe cantaloupe, cut in 1-inch pieces (about 1 large melon, rind and seeds removed)
4 cups watermelon, cut in 1-inch pieces (rind and seeds removed)
Juice of 1 fresh lemon
1-2 teaspoons honey, liquefied (20 seconds in microwave)
1/4 teaspoon salt
2 fresh jalapeño peppers, seeded and finely minced
1/2 cup fresh blueberries
Instructions
1. Purée the cantaloupe and watermelon together in a food processor or blender. Add the lemon juice, honey, salt and jalapeños to taste. Chill for up to 4 hours.
2. Garnish with fresh blueberries and serve.
Want more healthy, delicious recipes? Join the Dr. Weil on Healthy Aging online guide for access to hundreds of anti-inflammatory recipes and our exclusive eating guides. Sign up today and get 14 days free!