French Lentil Soup With Cremini Mushrooms, Sweet Potatoes & Thyme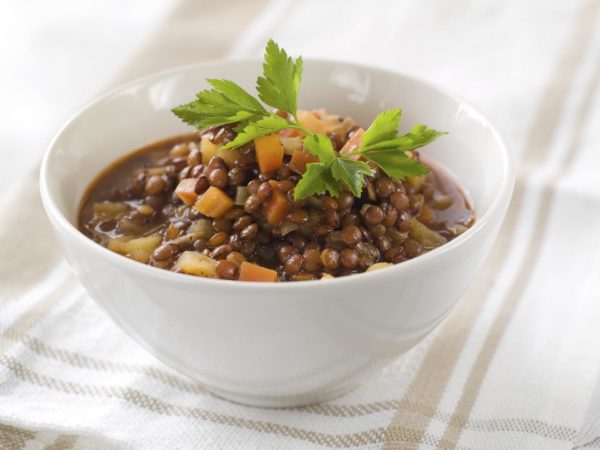 Nutrition
Serves 8-10 + vegan, gluten free
Nutrients Per Serving:
Calories 181
Fat 0.6 grams
Saturated Fat 0.1 grams
(2.7% of calories from fat)
Protein 10.0 grams
Carbohydrate 33.4 grams
Cholesterol 0 mgs
Fiber 11.1 grams
Recipe courtesy of Hollyhock, from the cookbook Hollyhock Garden to Table.
This Mediterranean-inspried soup has meaty French lentils, sweet potatoes and mushrooms of your choice.
On cool, damp nights, there's nothing that warms the gullet more than a robust Mediterranean-inspired, wholesome stew. This soup is thick with meaty French lentils, sweet potatoes and mushrooms of your choice.
Ingredients
2 cups coarsely chopped onion
1 tbsp coarsely chopped garlic
2 cups thinly sliced cremini mushrooms
8 cups water or vegetable stock
1 1/2 cups French lentils, rinsed
2 cups cubed sweet potatoes
1 cup coarsely chopped celery
2 tbsp minced fresh rosemary
2 tsp minced fresh thyme
3 bay leaves
1 tsp smoked paprika
1 tsp pepper
2 cups fresh tomatoes, cubed
1/4 cup red wine
Instructions
In a large soup pot, dry sauté (no oil) the onion and garlic on medium heat for about 2 minutes.
Add the sliced mushrooms and continue to sauté for another 5 minutes. Don't worry about the browning that starts on the bottom of the pan; this will enhance the rich flavor of the soup.
Add the water or stock, lentils, sweet potatoes, celery and remaining herbs and spices. Bring to a gentle boil, and cover and reduce heat to simmer for 30 minutes.
Add the fresh tomatoes and red wine and simmer for another couple minutes before serving.
Cook's Tip: Other than our confusion, sweet potatoes and yams have no relation whatsoever. Varieties of sweet potato range from the pale, light-fleshed dry tuber to the much-loved sweet, orange moist one. On the other hand, almost all of the world's yams are cultivated in West Africa and can grow up to 150 pounds each. You'd be hard pressed to find one at your corner market.
– Moreka Jolar