Miso Soup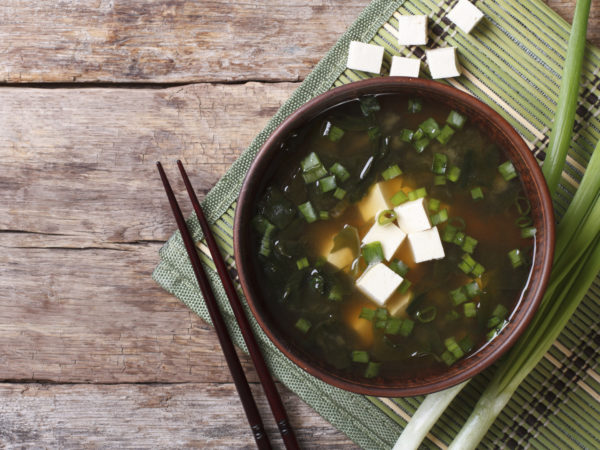 Nutrition
Serves 4
Nutrients Per Serving
Calories: 107.6
Protein: 3.2 grams
Fat: 5.4 grams
Saturated Fat: 0.7 grams
Monounsat Fat: 2.3 grams
Polyunsat Fat: 2.1 grams
Carbohydrate: 12.9 grams
Fiber: 3.3 grams
Cholesterol: 0.0 mg
Vitamin A: 8,180.3 IU
Vitamin E: 0.8 mg/IU
Vitamin C: 6.5 mg
Calcium: 46.3 mg
Magnesium: 19.8 mg
This recipe is for miso soup, a traditional Japanese soul food and comfort food.
Miso soup is the Japanese version of chicken soup – a combination soul food and comfort food. It is traditionally eaten at breakfast in Japan as a daily staple. Miso is a paste made from fermented soybeans, and is full of antioxidants like vitamin E, as well as protective fatty acids. It's healthful and delicious, and the Japanese say that the linoleic acid in miso promotes soft skin. The soybeans miso is made from also contain isoflavones and other elements that provide protection against some forms of cancer. To preserve these properties, miso should not be boiled. Add it to a soup after it has been removed from direct heat.
Food as Medicine
Miso is a particularly valuable food for vegans. The bacteria in miso synthesize vitamin B12, a difficult nutrient to obtain from diets that contain no animal products. Miso is a concentrated protein source, with just one tablespoon containing a full two grams. Miso and other fermented soy foods may also help lower the risk of breast cancer; a team of researchers from the University of Alabama at Birmingham found that laboratory animals whose diets were enhanced with miso had a lower incidence of breast cancer and a slower growth rate of cancer cells. Cabbage, in addition to being high in vitamins K and C, is also high in cholesterol-lowering fiber – the four cups in this recipe provide almost 15 grams of fiber – making this soup a heart-healthy choice.
Ingredients
2 teaspoons expeller-pressed canola oil
3 slices fresh ginger root, thinly sliced
1 large onion, thinly sliced
2 carrots, peeled and thinly sliced
2 stalks celery, thinly sliced
4 cups coarsely chopped cabbage
5 cups water
4 tablespoons miso (dark or light, available at natural-food stores)
2 green onions, chopped
1 teaspoon roasted sesame oil
Instructions
1. Heat canola oil in large pot. Add ginger and onion. Sauté over medium heat for 5 minutes and add carrots, celery and cabbage. Stir well.
2. Add water, bring to a boil over high heat, then lower heat and simmer covered till carrots are tender, about 10 minutes. Remove from heat.
3. Place miso in a bowl, add a little of the broth from the soup, and stir into a smooth paste. Add more broth to thin the mixture, then add the miso to the soup. Let rest for a few minutes.
4. Serve in bowls with chopped raw scallions and a few drops of roasted sesame oil. You may wish to remove the sliced ginger before serving.