Spinach Toasts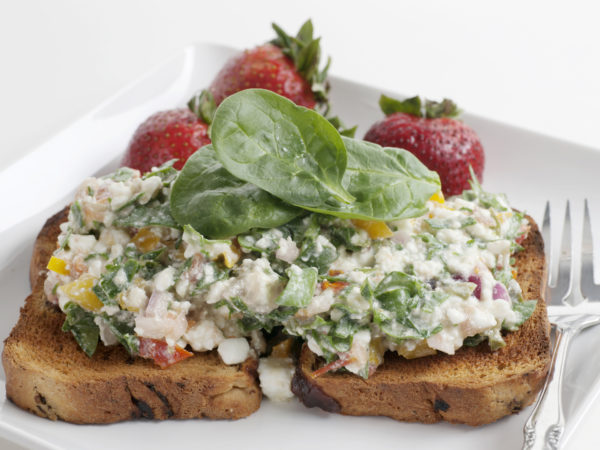 Spinach-haters are legion, but even those who usually turn their noses up at this healthy veggie will find something to love in this piquant preparation.
Tired of the much-over used avocado toasts served erverywhere lately? Consider this tasty alternative! Cooking spinach takes very little time, but you need to wash and drain it carefully, and remove tough stems first, which may take 5 or 10 additional minutes. Plan accordingly.
Food as Medicine
Spinach contains nearly twice the iron of other leafy greens, making it one of the most available plant-based sources of iron. It's an excellent source of folic acid, potassium and magnesium, as well as vitamin K, carotenes, and vitamin C. 
Ingredients
3/4 cup purified water
2 bunches fresh spinach (about 2 pounds), stemmed
9 pieces thinly sliced whole wheat bread
1 small onion, minced
1 clove garlic, minced
1 tablespoon olive oil
2/3 cup plain yogurt
1/8 teaspoon freshly ground nutmeg
1 tablespoon chopped fresh mint
Freshly ground pepper to taste
11/2 tablespoons chopped toasted walnuts
GARNISH
1 red apple, cut in thin wedges, or fresh strawberries if in season.
Instructions
Preheat oven to 300°F.
Pour the water into a large stainless steel pot and bring it to a boil. Drop in the washed spinach and cook for 3 minutes, stirring several times. Drain the spinach in a colander over a pan to catch all the water, which you can save to make vegetable stock (page 122). Put a bowl or plate on top of the spinach, inside the colander, and press down to squeeze excess water from the leaves.
Trim the crusts from the bread slices, cut on the diagonal to create 2 triangular pieces, then cut again to make 4 triangles. Put them on a cookie sheet and bake until lightly toasted, about 5 minutes. Meanwhile, sauté the onions and garlic in olive oil in a medium nonstick sauté pan over low heat until onions are softened, about 2 minutes. Remove from heat.
Put the spinach leaves into a medium bowl, along with the onions and the garlic. Add the yogurt, mint, pepper, and nuts and toss thoroughly with a fork. Spread the spinach mixture on the toasts just before serving. Garnish with apple wedges or sliced strawberries.
Makes 36 pieces – 3 triangles per person.