Spinach Goma Ae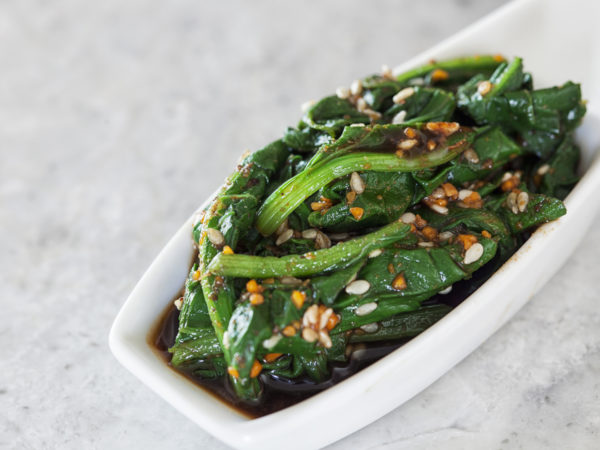 Nutrition
Serves 2
Nutrients Per Serving
Calories: 212
Protein: 9.7 grams
Fat: 11.0 grams
Saturated Fat: 2.0 grams
Monounsat Fat: 3.9 grams
Polyunsat Fat: 4.8 grams
Carbohydrate: 22.5 grams
Fiber: 7.8 grams
Cholesterol: 0.0 mg
Vitamin A: 21,315.1IU
Vitamin E: 0.0 mg/IU
Vitamin C: 63.8 mg
Calcium: 247.2 mg
Magnesium: 236.4 mg
This cold, flavorful side dish features a sesame seed dressing and is a refreshing addition to any picnic or meal!
In Japanese, "goma" means sesame seed and "ae" means sauce. This cold, flavorful side dish (sometimes written as "gomae") features a sesame seed dressing and is often found in bento, or lunchboxes. It's a useful recipe when you need to use up a lot of garden-fresh spinach, as it cooks way down. A light and refreshing addition to any meal!
Food as Medicine
Spinach contains nearly twice the iron of other leafy greens, making it one of the most available plant-based sources of iron. It's an excellent source of folic acid, potassium and magnesium, as well as vitamin K, carotenes and vitamin C.
Ingredients
1 lb. spinach, washed, stems removed
4 tablespoons sesame seeds, lightly toasted
4 teaspoons sugar
1 tablespoon sake
2 tablespoons shoyu (soy sauce)
1 teaspoon dark sesame oil
Instructions
Bring a large pot of water to full boil. Plunge the spinach into it, pushing leaves down and stirring until spinach is completely wilted (no more than two minutes)
Drain and cool quickly by submerging in cold water.  Drain well, then squeeze handfuls of spinach to extract as much water as possible.
Place clumps of spinach on a cutting board and slice into 1/2 inch slices. Arrange on a plate.
Grind sesame seeds to medium fine. Add sugar and grind together. Mix in shoyu, sake, and sesame oil, and spoon dressing over spinach.