Polenta With Roasted Bell Peppers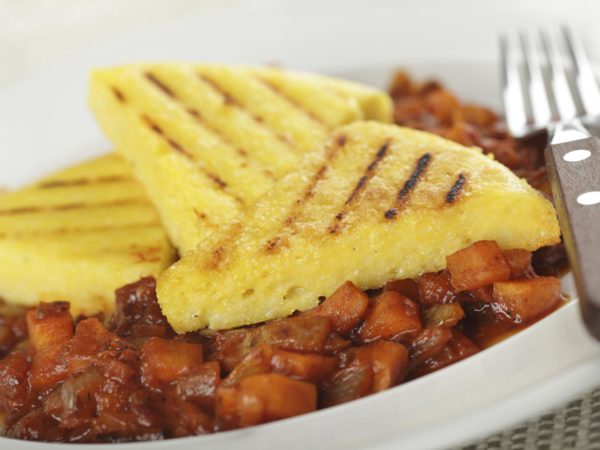 Nutrition
Serves 6
Nutrients Per Serving:
Calories 111.6
Fat 10.4g
Saturated Fat 1.5g
(82.5% of calories from fat)
Protein 0.8g
Carbohydrate 4.2g
Cholesterol 0mg
Fiber 0.5g
This Recipe is from THE HEALTHY KITCHEN- Recipes for a Better Body, Life, and Spirit by Andrew Weil, M.D and Rosie Daley (Knopf)
This dish makes not only a substantial appetizer, but it can also be eaten for breakfast, a snack, or lunch! Start with top quality organic cornmeal and you are well on your way to making these delicious polenta triangles, good hot or cold.
Polenta, or cornmeal, is made from dried corn kernels that have been ground into fine, medium and coarse textures. It is cooked to a thick and moist consistency and either served hot – right out of the cooking pot – or cooled in a baking pan and cut into triangles. Here it is cooked with cheese to give it added flavor. The simple act of roasting peppers for the puree spread gives them a sweet, smoky taste – just right for mild-tasting polenta.
Food as Medicine
Red peppers are rich sources of lycopene, a carotenoid that may help reduce the risk of cancers of the prostate, bladder, cervix and pancreas.
Ingredients
POLENTA
3 cups purified water
1 cup cornmeal (polenta), medium ground
1 teaspoon salt
1 tablespoon finely chopped basil
1/4 cup freshly grated cheddar or Parmesan cheese
1/8 teaspoon hot sauce (such as Tabasco)
2 shallots, peeled and roughly chopped
1/4 teaspoon salt
1/8 teaspoon freshly ground black pepper
ROASTED BELL PEPPER PUREE
3 large red bell peppers, seeded (about 1 1/2 pounds)
1 1/2 tablespoons extra-virgin olive oil
1 tablespoon balsamic vinegar
GARNISH
2 tablespoons chopped parsley
1 1/2 tablespoons additional Parmesan cheese
6 fresh basil sprigs
Instructions
Prepare the polenta:
Bring the water to a boil in a saucepan.
Slowly pour in a continuous stream of cornmeal, stirring constantly. Add the salt.
Reduce the heat to low and cook uncovered, stirring occasionally, until the polenta begins to pull away from the sides of the pan, about 20 minutes.
Shut off the heat and stir in the basil and cheese.
Working quickly, grease with olive oil a medium-size (approximately 9 x 7 inches) shallow casserole dish or pan and pour in the cornmeal, spreading it out over the whole surface.
Let the polenta set and cool for 1 hour.
Preheat oven to 400° F.
Prepare the Roasted Bell Pepper Puree:
Cut the sweet red peppers into large pieces.
Smear a little of the olive oil over the bottom of an ovenproof casserole dish and lay the peppers inside.
Cover and bake for 20 minutes until they become soft.
Remove from the oven (leave the oven on to bake the polenta) and let cool.
Put the peppers in a food processor and process until smooth.
Add the remaining ingredients including all but a teaspoon of the remaining olive oil, and process until thoroughly blended.
Scrape the dip into a serving bowl.
To assemble:
When the polenta has cooled completely, cut two vertical lines through it, so you have three rectangles. Make diagonal cuts from corner to corner of each rectangle to make an "X," creating 4 triangles within each of the 3 rectangles.
Smear some olive oil over a baking sheet and with a spatula remove each of the 12 triangles and arrange them on the sheet, leaving space around each one so that the edges can crisp. Bake on the top rack in oven for 15 minutes, or until browned.
To serve:
Pour 2 tablespoons of the Roasted Bell Pepper Puree on each of 6 serving plates.
Arrange 2 Polenta Triangles alongside, sprinkle some chopped parsley and Parmesan over them, and place a basil sprig on the side.
Makes 12 – 2 per person.