Mole Pinto Beans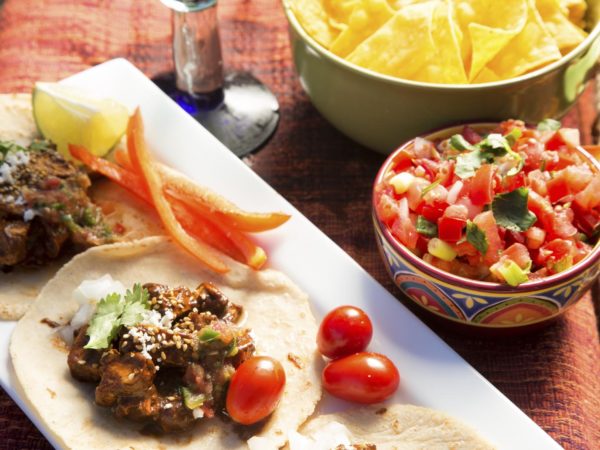 Nutrition
Serves 6
Recipe from "20 Minutes to Dinner" by Bryanna Clark Grogan (The Book Publishing Co., 1997)
Try this recipe with a healthy salad and rice, fresh polenta, whole-wheat tortillas, or use it as a filling for enchiladas.
Mole is a distinctive Mexican sauce that contains chocolate (or cocoa, in this case). You can buy mole mixes but they are usually high in fat. This version is not, and a blender makes it easy to prepare. Instead of traditional turkey or chicken, this recipe pairs mole with creamy pinto beans. Eat it with salad and rice, fresh polenta, whole-wheat tortillas, or use as a filling for enchiladas.
Food as Medicine

The tomatoes in this recipe provide lycopene, a potent antioxidant that has been found to be protective against colorectal, prostate, breast, endometrial, lung and pancreatic cancers.
Ingredients
Mole Sauce:
3 large tomatoes, chunked (or about 2 cup canned, drained tomatoes from a 28-oz. can, or 1/4 cup tomato paste and 2/3 cup water)
1/2 cup vegetarian broth
1 green pepper, seeded and diced
3 tablespoons each unsweetened organic cocoa and roasted sesame seeds (or 1 1/2 tablespoons tahini)
2 tablespoons masa harina (Mexican corn tortilla flour)
2 tablespoons raisins
1 1/2 tablespoons good, dark chile powder (preferably ancho chile powder)
3 cloves garlic, peeled
1 teaspoons each salt and sugar or alternate
1/2 teaspoons ground anise
1/4 teaspoons ground coriander
1/8 teaspoons cinnamon
Dash each of pepper and ground cloves or allspice
1 1/2 cups vegetarian broth
3 cans (or 4 1/2 cups cooked) pinto beans, drained
Instructions
Note: If you are serving this with rice, put a pot of long grain rice on to cook before starting the recipe.
1. In a blender, mix all of the ingredients except the last 1 1/2 cups of broth and the beans. Blend until very smooth. Add the remaining broth and blend again.
2. Pour the sauce over the beans in a nonstick pot or skillet and simmer, covered, for 15-20 minutes.
Variation:
Mole sauce (simmered first for 15-20 minutes) can also be served over browned seitan, tofu, tempeh, reconstituted textured vegetable protein chunks, or your favorite cooked vegetarian "cutlet."