White Beans & Fusilli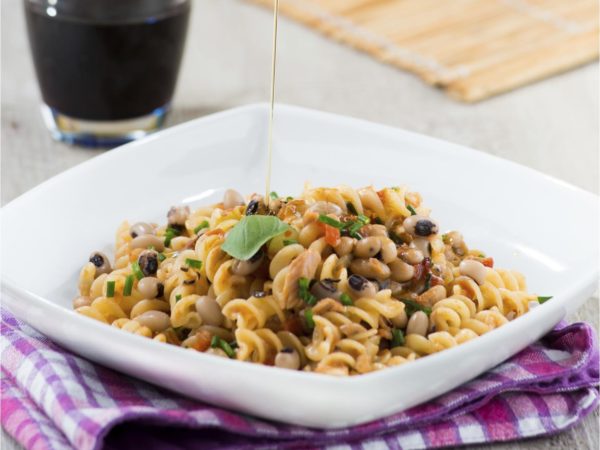 Serve this dish with a green salad and sliced, toasted French baguette brushed with olive oil.
This makes a great lunch as well as an entrée for dinner. I make this pasta dish with beans because they provide a bit of protein. Serve with a green salad and a sliced French baguette brushed with olive oil and toasted.
Food as Medicine
White beans are full of fiber and protein. They are also high in folate, thiamin (B1), magnesium, phosphorous and iron. They are also a rich source of manganese and copper, trace minerals that work together as part of the body's antioxidant defenses.
Ingredients
WHITE BEANS
1 cup Great Northern, navy or cannellini beans, soaked overnight in 3 cups of water to cover and 1/2 teaspoon baking soda
1 bay leaf
3 cups vegetable stock
PESTO
1/2 cup walnuts
5 cups fresh basil
5 large cloves garlic, peeled or smashed
1/4 cup freshly grated Parmesan cheese
2 tablespoons olive oil
PASTA
1 pound fusilli or pasta shells
1/2 teaspoon salt
1 small onion, chopped (about 1/2 cup)
2 cloves garlic, chopped
1 bunch escarole, chopped
1/3 teaspoon dried rosemary
1 tablespoon olive oil
Salt to taste
GARNISH
1 lemon, sliced
Instructions
Drop the bay leaf into the pot of water that the beans have been soaking in overnight. Bring the water to a boil, pour in the vegetable stock, and cook for 45 minutes or longer. The beans should be able to be easily pierced with a fork.
Make the pesto: Put all the pesto ingredients, except the oil, in a food processor and blend. Slowly add the oil and continue to process until it becomes a smooth paste. Set aside.
Bring a large pot of water with the salt to a boil. Add the pasta and cook until it is al dente.
Meanwhile, sauté the onions, garlic, escarole, and rosemary in 1 tablespoon of olive oil until limp. Add salt to taste and mix in with the beans.
Drain the pasta in a colander and pour it into a large bowl. Add about 1/3 cup of the pesto or more to taste and toss well until it is distributed evenly and the strands of pasta are coated.
Serve the pasta in 6 individual pasta bowls and ladle white beans on top. Garnish each with a slice of lemon.
Tips from Rosie's Kitchen:
Store leftover pesto in ice cube trays, then cover and freeze. Pesto is wonderful tossed plain with warm noodles or mixed with béchamel or white sauce and tossed with pasta.