Toasted Grain Pilaf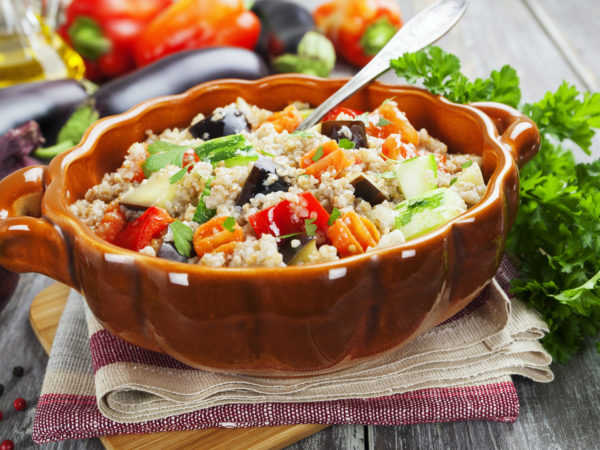 Try this healthful grain-based recipe and mix in aromatic vegetables to create a delicious and nutritious dish. Many different grains will work as the base, so experiment with your favorites – or combine!
Traditionally a Middle Eastern pilaf is made with white rice, but here we use a variety of healthful grains, toasting it first to bring out its flavor, and mixing in aromatic vegetables to create a delicious, more nutritious dish.
Food as Medicine
Whole grains are full of protein, fiber, vitamins, minerals and low-glycemic carbohydrates and are an important part of Dr. Weil's anti-inflammatory diet and anti-inflammatory food pyramid, but he always specifies "whole grains." This means when using or cooking with whole grains, the individual grains must be intact or cracked into a few large pieces and not pulverized into flour.
Ingredients
2 cups millet, quinoa, amaranth or a combination
1/8 teaspoon curry powder (optional)
4 cups chicken stock or vegetable stock (more, as needed)
1/4 cup sun-dried tomatoes (dried in a package, not in oil)
1/2 cup boiling purified water
1/2 cup shredded zucchini
1/2 cup shredded yellow summer squash
1/4 cup minced red bell pepper
1/4 cup chopped scallions or green onions
Salt to taste
Instructions
Toast the millet (or other grains) in a large saucepan set over low heat, stirring it constantly until it turns a light brown color, less than 1 minute. Stir in the curry powder until it is blended in. Remove from heat and let cool for 5 minutes. Add the chicken or vegetable stock and bring to a boil. Reduce heat, cover, and simmer. Check after 20 minutes. If the stock has boiled away, add a little more. Cook until the millet has absorbed all the liquid, about 25 minutes in all.
Meanwhile, soak the dried tomatoes in the boiling water for 15 minutes. Drain them in a colander set over a bowl to reserve the liquid, then chop them. Mix the tomatoes, reserved liquid, zucchini, yellow squash, red pepper, and scallions or green onions together in a small skillet set over low heat and cook until most of the liquid is absorbed. Pour into the cooked grain and toss until everything is completely mixed together. Taste and add salt if you think it is needed. Fluff with a fork and serve.
Tips from Rosie's Kitchen
You can also make this recipe with brown rice, but the cooking time would increase to 45 minutes.