Red Quinoa Side Dish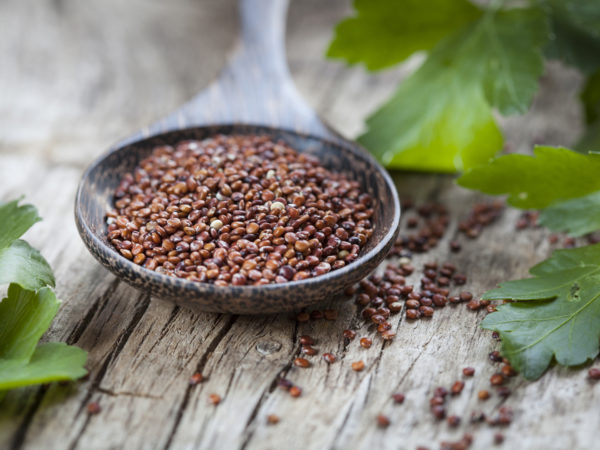 Nutrition
Serves 6
Nutrients Per Serving:
Calories: 347
Protein: 12.3g
Fat: 6.67g
Saturated Fat: 0.17g
Monounsat Fat: 0.32g
Carbohydrate: 62.84g
Fiber: 7.34g
Cholesterol: 0mg
This recipe is courtesy of Dr. Weil's True Food Kitchen restaurant in Phoenix, Arizona.
Quinoa is a nutritional powerhouse that's delicious on its own or with mild seasoning and simple veggies.
Not only is quinoa a nutritional powerhouse, but it has a delightful nutty flavor that is delicious on its own, or with mild seasoning and simple vegetables as in this recipe. Be sure to wash your quinoa well, as its natural saponin coating is quite bitter, and is not always fully removed during processing. A True Food Kitchen recipe.
Food as Medicine

Quinoa is high in protein, and the protein it contains is complete, which means it includes all nine essential amino acids.
Ingredients
4 cups red quinoa
1 cup yellow onion, diced
1 cup celery, diced
8 cups water
2 tablespoons salt (or to taste)
3 sprigs fresh oregano
Instructions
Sauté onions and celery. Season with salt, pepper and oregano.
Add quinoa and water. Cover and boil on medium heat for about 25 minutes until cooked and fluffy.