Cold Vegetable Pasta Primavera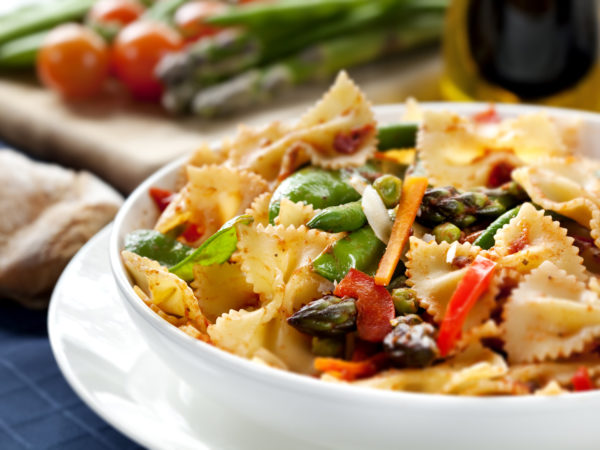 This recipe calls for fresh noodles and is tossed with seasoned, grilled vegetables and homemade sauce.
Cold pasta dishes are often overlooked, perhaps because we are used to seeing them looking tired in a deli counter. When the noodles are made fresh and tossed with seasoned, grilled vegetables and homemade sauce, it makes all the difference.
Food as Medicine
Zucchini has amounts of carotenes, potassium and vitamin C. Dr. Weil suggests it is a good vegetable to eat in the summer to help prevent dehydration. Garlic is an effective home remedy for colds: chop a few cloves of garlic a day into food. The idea is to eat raw garlic at the first onset of symptoms.
Ingredients
SEASONING
1/4 cup olive oil
1 tablespoon Italian seasoning
1/8 teaspoon cayenne pepper (optional)
1/4 teaspoon salt
1/8 teaspoon coarsely cracked black pepper
GRILLED VEGETABLES
1 zucchini, cut lengthwise into slices 1/2-inch thick
2 summer squash, cut lengthwise into slices 1/2-inch thick
4 Japanese eggplants, cut lengthwise into slices 1/2-inch thick
1 onion, cut into 1/2-inch slices
1 red bell pepper, stem and seeds removed, cut lengthwise into 3/4 – inch slices
PASTA SAUCE
1 tablespoon minced garlic
3 tablespoons finely minced shallots or white onions
Juice from 1 lemon (about 1/4 cup)
1/4 cup balsamic or red wine vinegar
4 tablespoons olive oil
6 cups peeled, seeded, and diced tomatoes
1 teaspoon salt
20 fresh basil leaves, shredded
1 pound fusilli
1 teaspoon grated lemon zest
1/2 teaspoon freshly ground black pepper
1 cup sliced green or black olives
1/4 cup capers
1 cup cubed feta cheese
Instructions
Mix all the seasoning ingredients together in a large bowl, then put in the sliced vegetables and toss until all the vegetables are completely coated. Spread out the vegetables on the grill and cook over medium-low heat for 1 1/2 minutes on each side.
Make the sauce: Mix the garlic, minced shallots, lemon juice, vinegar, and 3 tablespoons of the olive oil together in a bowl. Place the tomatoes in a blender or food processor to purée, then add them to the bowl. Cover and refrigerate.
Bring a large pot of water and 1/2 teaspoon of the salt to a boil and cook the pasta until it is done. Drain through a colander. Transfer the pasta to a large bowl and toss with the remaining 1 tablespoon of olive oil. Add the grated lemon zest, pepper, the remaining 1/2 teaspoon salt, and the grilled vegetables and toss again.
Remove the sauce from the refrigerator just before you are ready to serve, and mix in the shredded basil leaves until they are evenly distributed throughout the sauce.
Pour the sauce over the pasta and grilled vegetables, add the olives and capers, and toss until all the strands of pasta and the vegetables are evenly coated. Top with sprinkles of feta cheese and serve.