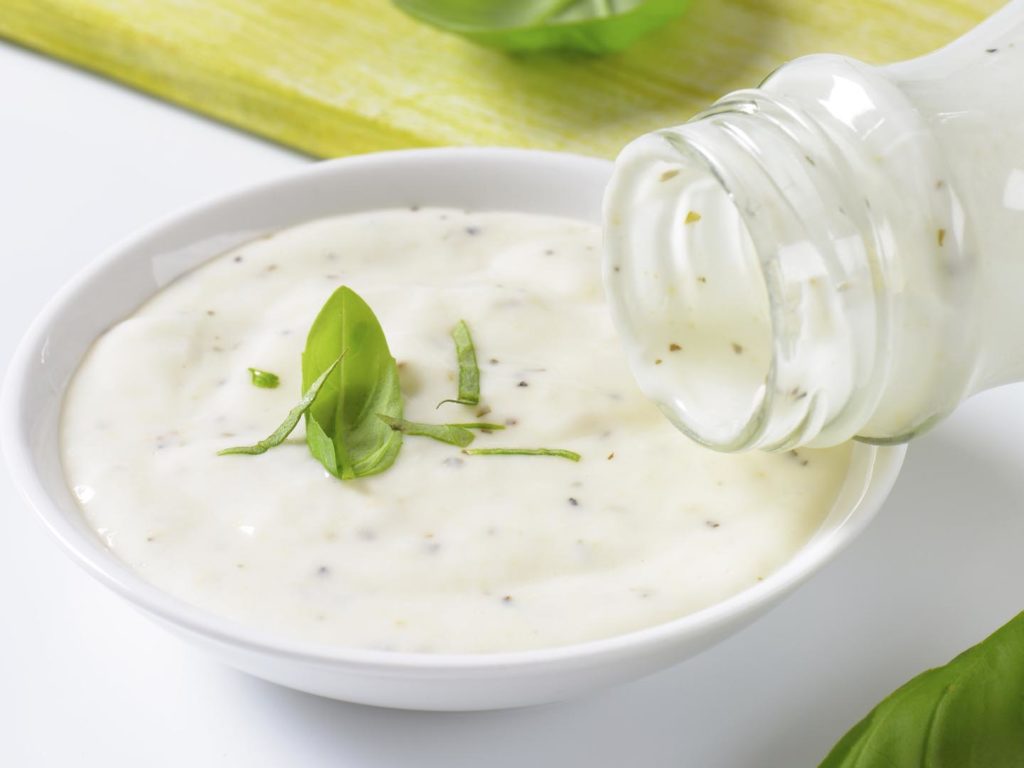 Creamy Salad Dressing
Nutrition
Serves 8
Nutrients Per Serving
Calories: 33.4
Protein: 1.8 grams
Fat: 2.7 grams
Saturated Fat: 0.3 grams
Monounsat Fat: 1.2 grams
Polyunsat Fat: 1.1 grams
Carbohydrate: 1.1 grams
Fiber: 0.3 grams
Cholesterol: 0.0 mg
Vitamin A: 42.2 IU
Vitamin E: 0.3 mg/IU
Vitamin C: 2.5 mg
Calcium: 24.1 mg
Magnesium: 23.2 mg
This delicious, soy-based dressing can stand head to head with ranch dressing. Look for silken tofu in shelf-stable cardboard containers. It has a different texture than regular tofu and is good for dressings and desserts. This dressing is good on a tossed green salad (remember to pick dark green salad greens), but equally at home on a baked potato or as a dip for raw vegetables. Add a bit of fragrant bleu cheese if you like.
Food as Medicine
Soy is a rich source of manganese, iron and selenium; and of course, plant-based protein and cancer risk-lowering isoflavones. Parsley is a good source of folic acid, a B vitamin critical for cardiovascular health. Also, just one tablespoon of parsley contains over 75 percent of the Daily Value of vitamin K.
Ingredients
6 ounces silken tofu (or soft tofu, drained)
2 tablespoons fresh lemon juice
1 tablespoon expeller-pressed canola oil
1/2 teaspoon salt
1/4 teaspoon pepper
1 tablespoon chopped fresh Italian parsley
1 clove garlic, chopped
1 1/2 tablespoons cider vinegar
Instructions
Combine all ingredients in a blender container. Blend until well mixed.
Want more healthy, delicious recipes? Join the Dr. Weil on Healthy Aging online guide for access to hundreds of anti-inflammatory recipes and our exclusive eating guides. Sign up today and get 14 days free!