Vegetarian Caesar Dressing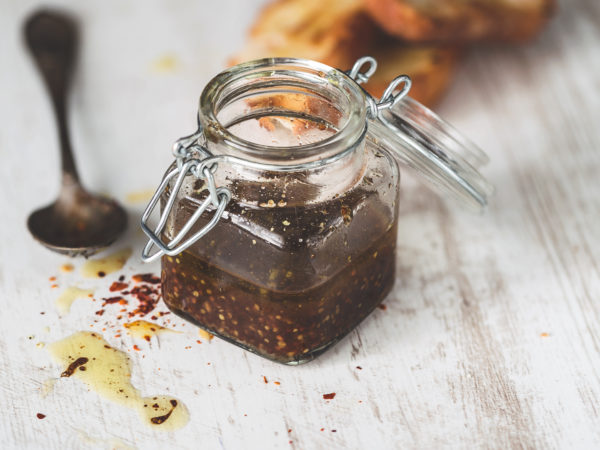 Nutrition
Serves 22

Nutrients Per Serving:
Calories 211.4
Fat 22.3 grams
Saturated Fat 3.35 grams
(94.4% of calories from fat)
Protein 1.46 grams
Carbohydrate 1.54 grams
Cholesterol 2.62 mgs
Fiber 0.1 grams
This recipe is courtesy of Dr. Weil's cookbook: True Food: Seasonal, Sustainable, Simple, Pure.
Many people say they prefer this vegetarian version to the classic recipe.
Suitable for lacto-vegetarians, this dressing omits egg yolk, substitutes Kalamata olives for anchovies, and uses vegetarian Worcestershire sauce (available in natural foods stores) instead of the usual anchovy-based version. A True Food Kitchen exclusive! 
Food as Medicine
The olives in this recipe provide substantial taste and health benefits. Olives are extraordinarily rich in phytonutrients, including a special one found only in olives known as oleuropein. It has been shown to lower oxidative stress, and especially to decrease oxidation of LDL cholesterol. Olives are also rich sources of vitamin E.
Ingredients
1/2 cup freshly squeezed lemon juice
2 tablespoons red wine vinegar
1 tablespoon vegetarian Worcestershire sauce
1/4 scant cup Dijon mustard
1/2 cup pitted Kalamata olives
6 garlic cloves, chopped
1 cup grated packed Parmigiano-Reggiano cheese
2 cups extra-virgin olive oil
1 1/2 teaspoons salt (or more to taste)
1 teaspoon freshly ground
black pepper (or more to taste)
Instructions
Combine the lemon juice, vinegar, Worcestershire, mustard, olives, garlic, and cheese in a blender or food processor. With the machine on, drizzle in the oil, salt, and pepper.
Blend until smooth and emulsified.
Adjust the seasonings with salt and pepper. Transfer to a lidded jar and refrigerate for up to three days.
This dressing works well on traditional Caesar salads and on Dr. Weil's French Bean Salad.