French Bean Salad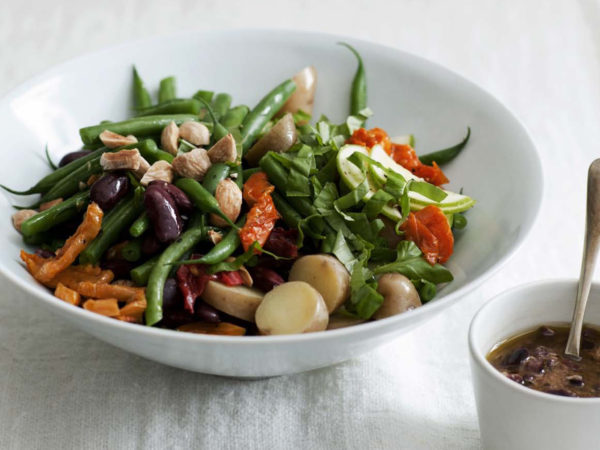 Nutrition
Makes 4 to 6 servings
Nutrients Per Serving:
Calories 181
Fat 7.3 grams
Saturated Fat 0.9 grams
(33.1% of calories from fat)
Protein 7.1 grams
Carbohydrate 26.0 grams
Cholesterol 0 mgs
Fiber 6.6 grams
This recipe is courtesy of Dr. Weil's cookbook: True Food: Seasonal, Sustainable, Simple, Pure.
Best when made a few hours in advance. Toss with romaine leaves, croutons, and some Parmigiano-Reggiano shavings!
Here's a variation of a dish my mother used to make when I was growing up in Oregon, with a vegetarian Caesar dressing created by Andy's daughter, Diana. Talk about a collaboration! As always, freshness and seasonality are the keys to the success of this dish. It's best when made a few hours in advance and served chilled. Diana first used this dressing on vegetarian Caesar salad. Try it tossed with romaine leaves, croutons, and some Parmigiano-Reggiano shavings. A True Food Kitchen exclusive!
Food as Medicine
Along with abundant anti-inflammatory flavonoids including quercetin and kaemferol, green beans are good sources of the mineral silicon. While not as widely known as other nutritive minerals, silicon is essential for strong bones and healthy connective tissue. Keeping cooking times brief – as they are in this recipe – helps to preserve nutrient levels.
Ingredients
1 pound fingerling potatoes, cubed
1 1/2 tablespoons extra virgin olive oil
1/4 teaspoon salt
1/4 teaspoon freshly ground black pepper
10 ounces green beans, stemmed and strings removed
2 medium zucchini, cut into thin half moons
1/3 cup chopped Marcona almonds
3/4 cup sliced Oven-Roasted Tomatoes
1 cup canned kidney beans, rinsed and drained
1/3 cup pitted and sliced Kalamata olives
3 tablespoons chopped basil
1/3 cup Vegetarian Caesar Dressing
Instructions
Preheat the oven to 400° Line a baking sheet with aluminum foil.
Arrange the potato cubes on the prepared baking sheet and toss them with the olive oil, salt and pepper. Roast for 25 minutes, or until tender when pierced with a knife. Remove from the oven and set aside.
Bring a saucepan of salted water to the boil. Add the green beans and cook for 4 to 5 minutes. Rinse under cold water through a strainer. Set aside.
In a large bowl combine all ingredients and toss to coat evenly with the Vegetarian Caesar Dressing. Adjust seasonings with salt and pepper. Let marinate 15 minutes before serving. Transfer to a serving dish and serve.