Stir-Fried Rice With Tofu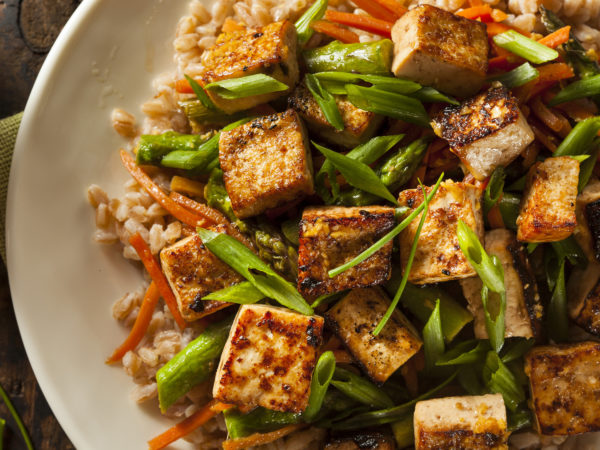 Nutrition
Serves 4
Nutrients Per Serving
Calories: 338.5
Protein: 13.0 grams
Fat: 9.1 grams
Saturated Fat: 1.3 grams
Monounsat Fat: 4.0 grams
Polyunsat Fat: 3.2 grams
Carbohydrate: 51.5 grams
Fiber: 3.1 grams
Cholesterol: 0.0 mg
Vitamin A: 285.8 IU
Vitamin E: 0.7 mg/IU
Vitamin C: 11.4 mg
Calcium: 120.7 mg
Magnesium: 119.5 mg
This traditional Chinese favorite is a wonderful vegetarian entrée when prepared with tofu.

Use either firm tofu or the more flavorful baked, pressed tofu if you can find it. Serve this simple dish with a salad of sliced cucumbers in rice wine vinegar and steamed asparagus. Sliced oranges make a great dessert.
Food as Medicine
The generous quantity of ginger in this recipe can provide significant anti-inflammatory effects. Ginger has been shown to help relieve osteoarthritis pain and swelling via compounds known as gingerols. Tofu, while commonly known as a reliable source of vegetarian protein (a four-ounce serving contains nine grams of soy protein), is also high in the trace mineral selenium: the same four ounces of tofu provides almost 15 percent of the Daily Value of selenium, which is a cofactor of an important antioxidant enzyme in the body called glutathione peroxidase. Selenium protects against cancer (especially colon cancer), helps support the immune system and regulate thyroid function, may alleviate asthma and arthritis symptoms and may even aid in the prevention of heart disease. It is best to consume selenium along with vitamin E, as they facilitate each other's absorption; this recipe already includes vitamin E-containing olive oil, but try adding in some leafy green vegetables such as Swiss chard or collard greens for even more of this important vitamin.
Ingredients
1 tablespoon light olive oil
1 small onion or 3 scallions chopped
2 cloves garlic, minced
1 tablespoon fresh ginger root, grated
12 ounces firm tofu, cut in cubes
4 cups cooked, cooled rice
3 tablespoons reduced-sodium soy sauce
1/2 cup fresh or frozen green peas
2 tablespoons chopped cilantro leaves
1 teaspoon dark (roasted) sesame oil
Instructions
In a wok or large skillet, heat the olive oil, and quickly sauté the onion, garlic, and ginger, stirring constantly with a large spoon.
Add the tofu and warm it through.
Add the rice, stirring and turning it to mix it with the other ingredients and warm it through.
Add the soy sauce and mix well.
Add the peas, cilantro, and sesame oil, and mix well.