Marinara Sauce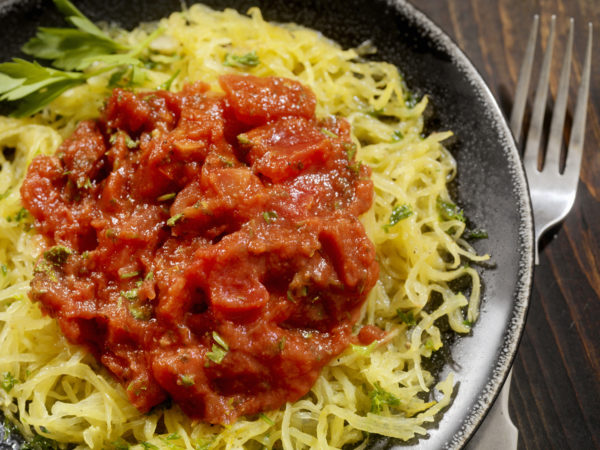 Nutrition
Serves 10
Nutrients Per Serving
Calories: 152.0
Protein: 4.8 grams
Fat: 3.5 grams
Saturated Fat: 0.5 grams
Monounsat Fat: 2.1 grams
Polyunsat Fat: 0.6 grams
Carbohydrate: 31.1 grams
Fiber: 7.0 grams
Cholesterol: 0.0 mg
Vitamin A: 2,853.6 IU
Vitamin E: 3.2 mg/IU
Vitamin C: 63.2 mg
Calcium: 134.4 mg
Magnesium: 61.5 mg
This recipe can be made in less than an hour and used for pasta, grilled veggies or baked tempeh or tofu!

Every cook needs a good recipe for marinara sauce. This one can be prepared in less than an hour and used in many ways. It is traditionally served over pasta, but is equally delicious with polenta or rice. It also makes a wonderful sauce for grilled vegetables or baked tempeh or tofu. We don't need to remind you that tomatoes cooked with oil provide a source of lycopene, one of the carotenes linked to protection from prostate cancer.
Food as Medicine
Research from the Harvard School of Public Health showed that women who consume abundant tomato-based products have a reduced risk of cardiovascular disease.
Ingredients
2 tablespoons extra-virgin olive oil
2 medium onions, chopped
1 medium carrot, peeled and finely grated
1/4 teaspoon red pepper flakes, or to taste 1 large can (28 ounces) Italian tomatoes, crushed
1 large can (12 ounces) tomato paste
1 teaspoon sugar (optional)
1 bay leaf
2 tablespoons dried whole basil
1 teaspoon dried whole oregano
Pinch fennel seeds
1/4 teaspoon ground allspice
4 cloves garlic, chopped
Instructions
1. Heat the olive oil in a large Dutch oven or saucepan (do not use cast iron or aluminum) over medium-high heat. Add the onions and carrot; sauté  until the onions are translucent.
2. Add the remaining ingredients and stir well. Bring just to a boil, lower heat, and simmer uncovered for 30 minutes or until desired thickness. Remove the bay leaf.
3. Serve with your favorite pasta or polenta.