Vegetarian Kung Pao With Broccoli & Peanuts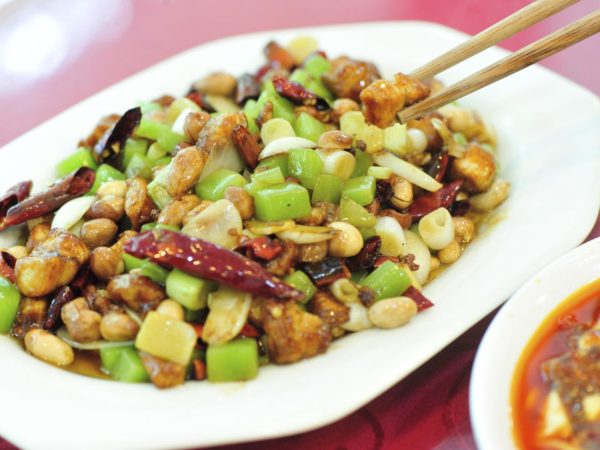 Nutrition
Serves 6
Recipe from "A Spoonful of Ginger" by Nina Simonds (Alfred A. Knopf, 1999)
This vegetarian version of a popular dish (Kung Pao Chicken) will be a real family-pleaser!
It's made with hot chili paste, but don't worry if you're not a fan of spicy fare, you can reduce the paste to make it milder. Tofu stir-fried with vinegar is a traditional folk remedy for malaria and dysentery. Peanuts are believed to improve the appetite and lubricate the lungs. An age-old remedy for hypertension is ground peanut shells steeped in water to make a tea that is drunk 3 times a day for at least 20 days.
Food as Medicine
Broccoli is an extraordinarily rich source of vitamin C. One cup, steamed, provides 205 percent of the Daily Value of this important antioxidant vitamin.
Ingredients
1 1/2 pounds firm tofu, cut into 1/2-inch slabs
1 pound broccoli, ends trimmed and stalks peeled
5 1/2 tablespoons (expeller-pressed) canola oil
Seasonings:
3 tablespoons minced scallions, white part only
2 tablespoons minced garlic
2 tablespoons minced fresh ginger
1 teaspoon hot chile paste
1 cup 1-inch length scallion greens (about 3 scallions)
1 1/2 cups thinly sliced water chestnuts, blanched 10 seconds in boiling water, then refreshed in cold water and drained
Sauce:
1 cup (vegetable) broth
1 tablespoon soy sauce
3 1/2 tablespoons rice wine or sake
2 tablespoons sugar
1 teaspoon toasted sesame oil
1 tablespoon Chinese black vinegar or Worcestershire sauce
1 1/2 tablespoons cornstarch
1 1/4 cups dry-roasted peanuts
Instructions
1. Wrap the tofu slabs in paper towels or a cotton towel, and place a heavy weight, such as a cast-iron skillet, on top. Let stand for 30 minutes to press out the excess water.
2. Cut the tofu into slices about 1/2-inch thick and 2 1/2 inches long. Place them in a bowl.
3. Cut away the broccoli florets and separate into bite-size pieces. Cut the stalks on the diagonal into 1-inch pieces.
4. Heat a large pot of water until boiling. Add the broccoli, and boil for 3 minutes. Drain, refresh under cold water, and drain again.
5. Heat a large, heavy skillet and add 2 1/2 tablespoons of the oil. Arrange some of the tofu slices in the pan and sear over high heat for 3 to 4 minutes on each side, or until golden brown.
6. Remove tofu with a spatula and drain in a colander. Reheat the pan and add 2 more tablespoons of oil. Continue frying the rest of the slices. Remove and drain.
7. Reheat the skillet or wok, add the remaining tablespoon of oil, heat until hot, and add the seasonings.
8. Stir-fry briefly, about 15 seconds, then add the scallion greens and water chestnuts, and stir-fry over high heat about 1 1/2 minutes.
9. Add the premixed sauce and cook, stirring continuously to prevent lumps, until it thickens.
10. Add the broccoli, fried tofu and peanuts. Toss lightly to coat and heat through. Scoop the dish onto a serving platter.
11. Serve with steamed rice.