Curried Salmon Soup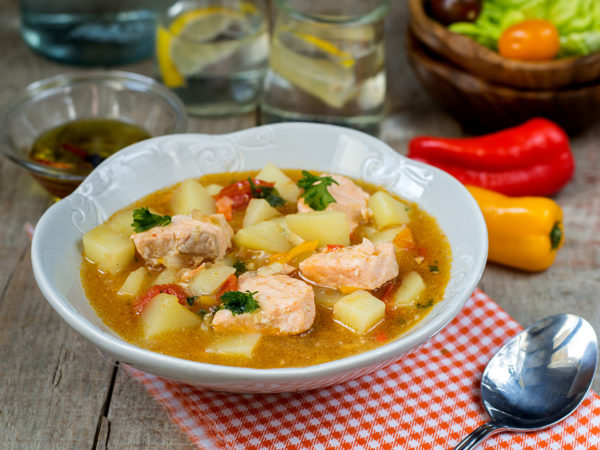 Nutrition
Serves 4
Nutrients Per Serving
Calories 672
Fat 26g
Saturated Fat 4g
(9% calories from fat)
Protein 36g
Carbohydrate 78g
Cholesterol 47mg
Fiber 5g
This Asian-inspired soup uses cashew milk for a velvety texture and rich taste.
If you find you like it, experiment with cashew milk and other nut milks as thickeners for a variety of soups. Rice-stick noodles are available at Asian groceries or other specialty food stores.
Food As Medicine
Salmon, turmeric (a component of this curry) and ginger are all potent anti-inflammatory foods. It now appears that salmon, along with its well-documented health benefits from omega-3 fatty acids, also has particular types of proteins known as bioactive peptides that may help support the health of joint cartilage.
Ingredients
7 ounce package rice-stick noodles
1 tablespoon canola or grapseed oil
1 shallot, thinly sliced
1 tablespoon, plus 1 teaspoon finely grated ginger
1 tablespoon red curry paste (plus 1 teaspoon more, for extra spicy)
14 ounces cashew milk made from 2/3 cup raw cashews
4 cups vegetable stock
4 tablespoons fish sauce
1-1/2 limes, juiced
1 tablespoon light brown sugar
12 ounces skinless wild salmon fillet, cut into 12 pieces
6 ounces snap peas (or snow peas)
4 ounces mung bean sprouts
1 cup cilantro sprigs
lime wedges
Instructions
Bring a large pot of water to a boil. Add noodles, turn off heat, and let stand 5 minutes or until just tender. Drain and rinse in a colander under cold running water. Cover with a damp paper towel.
Heat the oil in a large, heavy-bottomed pot over medium heat. Add the shallot and stir-fry until soft, about 2 minutes. Add the ginger and curry paste and stir-fry 1 minute. Gradually add the cashew milk and stock; bring to a boil.
Lower heat to medium and simmer 10 minutes. Add the fish sauce, lime juice, sugar, and salmon. Cover partially and simmer until fish is just cooked through, about 4-5 minutes. Add peas and cook another minute.
Rinse noodles with hot water, drain. Divide among 4 deep soup bowls. Add bean sprouts. Ladle hot soup on top. Garnish with cilantro and serve with lime wedges.
Note: Fish sauce is a Vietnamese product (nuoc mam) available at Asian grocery stores.
Also: Try a mixture of salmon, raw shrimp, and tofu cubes.
And: For convenience, you can use a can of lite coconut milk instead of cashew milk.