Shiitake Mushrooms And Pea Pods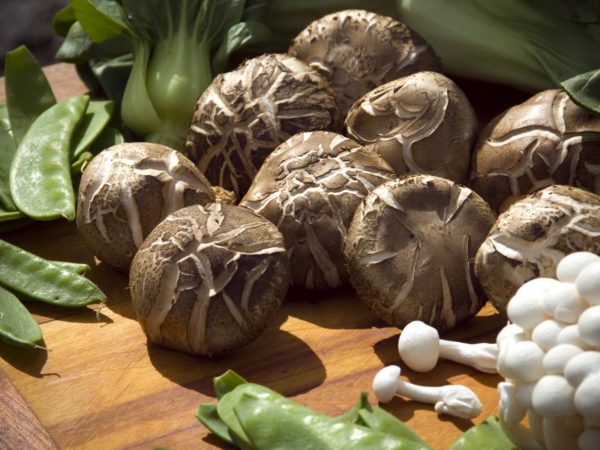 This dish provides a vivid contrast of green, sweetness, and crunchiness and goes well with fish and grains.

Fresh and dried shiitakes are practically different mushrooms; they are so unalike in texture and flavor. But both are delightful when combined with pea pods, which provide a vivid contrast of green, sweetness, and crunchiness (if you do not overcook them). This dish makes a good accompaniment to fish and also goes well with grains.
Food as Medicine
Shiitakes contain a substance called eritadenine, which encourages body tissues to absorb cholesterol and lower the amount circulating in the blood. Shiitakes also have antiviral and anticancer effects.
Ingredients
1 pound snow or sugar snap peas
1/2 pound fresh shiitake mushrooms or 1 cup dried
2 teaspoons canola or grape seed oil
1 teaspoon toasted-sesame oil
2 teaspoons light brown or raw sugar
1/4 cup sake or dry sherry
2 tablespoons shoyu or other natural soy sauce
Instructions
Trim the ends and any strings from the pea pods. If using fresh mushrooms, trim the stem ends and discard (or save for soup).
Slice the mushrooms into 1/2-inch-wide slices. If using dried mushrooms, put them in a bowl with enough cold water to cover. Place bowl in microwave, uncovered, and microwave on high for 1 minute.
Let the mushrooms sit in warm water until completely softened, about 30 minutes, then drain, squeeze out the liquid (save for soup), and cut off and discard the tough stems. Cut the caps into 1/2-inch-wide pieces.
Heat the oils in a skillet and add the mushrooms. Sauté over medium-high heat, stirring, until the mushrooms just begin to brown. Sprinkle the sugar over the mushrooms and add the wine and shoyu.
Cook and stir for 1 minute, and steam until the pea pods are just tender-crunchy and bright green, about 2 minutes. Remove cover and continue to cook, until most of the liquid is evaporated.
Serve immediately.