Tofu With Cilantro Sauce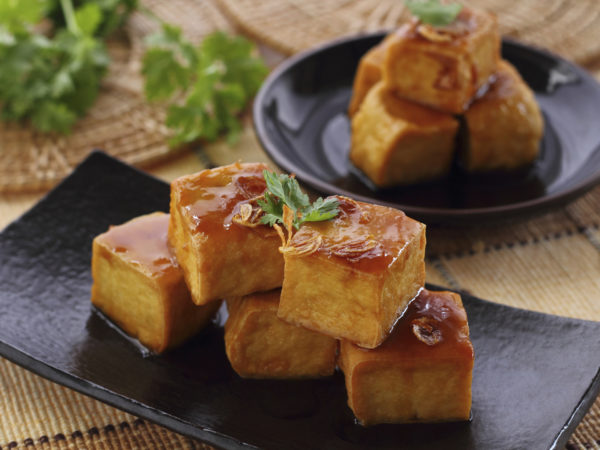 Nutrition
Serves 4
Nutrients Per Serving
Calories: 164.6
Protein: 10.0 grams
Fat: 12.3 grams
Saturated Fat: 1.3 grams
Monounsat Fat: 5.0 grams
Polyunsat Fat: 5.3 grams
Carbohydrate: 6.0 grams
Fiber: 1.9 grams
Cholesterol: 0.0 mg
Vitamin A: 876.4 IU
Vitamin E: 1.4 mg/IU
Vitamin C: 20.1 mg
Calcium: 143.1 mg
Magnesium: 127.7 mg
This dish develops real zest from a sauce made with fresh cilantro and ginger root. Serve this to anyone still unsure about tofu. They'll be pleasantly surprised and you will absolutely delight the bean curd lovers in your life.
Soy foods are a wonderful source of beneficial phytoestrogens and can help protect against several types of cancer. One of my favorites is tofu. Tofu has a neutral flavor and absorbs different seasonings, making it versatile and an excellent choice for culinary experimentation. In this dish, which can be served as a light entrée or side dish, it develops real zest from a sauce made with fresh cilantro and ginger root. Cilantro, also known as fresh coriander or Chinese parsley, is an herb used in Asian and Mexican cooking. Ginger provides anti-inflammatory effect along with its unique, spicy flavor.
Food as Medicine
For weight control, tofu is hard to beat. Four ounces of tofu provides about 18 percent of the daily value for protein, yet has only 86 calories and less than one gram of saturated fat.
Ingredients
1 pound firm tofu
1 tablespoon salt
Sauce:
2 tablespoons expeller-pressed canola oil
2 tablespoons finely chopped fresh ginger root
1 cup chopped fresh cilantro
2 tablespoons natural soy sauce
2 teaspoons light-brown sugar
Instructions
Cut the tofu into 4 thick slices.
Place slices in a pot containing 3 cups cold water and the salt. Soak for 30 minutes, then slowly bring it almost to a boil, and cook without boiling for 5 minutes.
While tofu is heating, prepare the sauce.
Heat the canola oil in a skillet and add the ginger.
Stir-fry for 1 minute, then add the cilantro, soy sauce and sugar.
Cook for 1 minute over high heat.
Remove tofu from heat, drain, carefully transfer to a warm serving dish, and spoon sauce over it.