Smoked Salmon Nori Rolls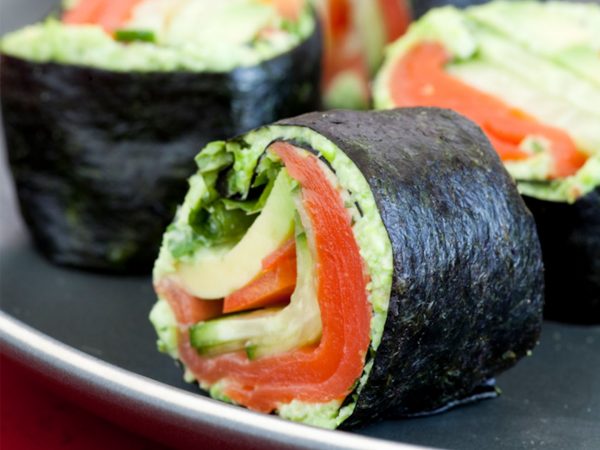 Nutrition
Makes 4 servings
Per Serving:
Calories: 305
Total Fat: 17.5 g (3 g saturated, 10.5 g monounsaturated)
Carbohydrates: 9 g
Protein: 30 g
Fiber: 5 g
Sodium: 180 mg
Recipe courtesy of The Longevity Kitchen, by Rebecca Katz, MS
Roll it up, slice it up, and eat it up with this delicious recipe! Thin slices of avocado, red bell pepper, and cucumber up the vegetable factor in these healthy rolls.

Leave it to the Japanese to help me come up with a healthy version of my favorite bagel topping, lox with a schmeer (that's Yiddish for a slathering of cream cheese). Instead of a bread bomb, I start with a wrap made of nori, the dried seaweed sheets often used to wrap sushi rolls. Nori contains nutrients that support thyroid function and provide many other health benefits.The lox – smoked wild salmon – stays the same (thank heavens!), and the schmeer is something I'm quite proud of: a creamy spread made with edamame and wasabi. It's a lot more healthful than a chunk of cream cheese, and it tastes a lot better too. Roll it up, slice it up, and eat it up and you won't need to nap fifteen minutes later, which is what usually happened to me in my bagel-eating days.
-Rebecca Katz, author of The Longevity Kitchen cookbook
Ingredients
8 sheets of nori
1 cup Edamame Wasabi Spread*
8 pieces (4 ounces) of smoked wild salmon, spritzed with lime juice
1 English cucumber, thinly sliced lengthwise into 16 pieces
1 large red bell pepper, thinly sliced lengthwise into 16 pieces
2 avocados, thinly sliced lengthwise into 16 pieces
24 fresh mint leaves
24 fresh cilantro leaves
*Edamame Wasabi Spread:
1 cup fresh or frozen shelled edamame, mixed with a spritz of lime juice and a pinch of salt
1/4 cup water
3 tablespoons extra-virgin olive oil
2 tablespoons freshly squeezed lime juice
1 tablespoon chopped fresh cilantro or parsley
2 teaspoons wasabi powder mixed with 1 teaspoon water, or 2 teaspoons wasabi paste
1/2 teaspoon sea salt
Instructions
Prepare Edamame Wasabi Spread: Put the edamame, sea salt, water, olive oil, lime juice, cilantro and wasabi paste in a food processor and process until smooth. Taste. You may want to add another squeeze of lime juice, a pinch of salt or if you really like some heat, add another 1/4 teaspoon of wasabi.
Instructions for the nori rolls:
Place a sheet of nori on a work surface with the rough side facing up. Carefully spread 2 tablespoons of the edamame wasabi mixture over the nori, leaving 1 1/2 inches bare along the bottom edge of the nori (the edge facing you) and 1/2 inch bare along the top edge.
Place 1 piece of the salmon, 2 slices of cucumber, 2 slices of bell pepper, and 2 slices of avocado about 1 1/2 inches from the bottom edge.
Top with 3 mint leaves and 3 cilantro leaves.
Starting with the bare edge, roll the nori around the fillings, pressing gently to make a compact roll.
Moisten a finger with warm water and run it along the inside edge of the flap that remains at the top of the roll, then press the moistened edge against the roll to seal.
Repeat with the remaining ingredients. Cut each roll into eight pieces using a sharp serrated knife.
Variations: For a vegetarian nori roll, substitute thinly sliced tofu for the salmon (use baked tofu for better fla-vor and texture).
Prep Time: 20 minutes
Storage: Store in an airtight container in the refrigerator for up to
 one day.