Pasta e Fagioli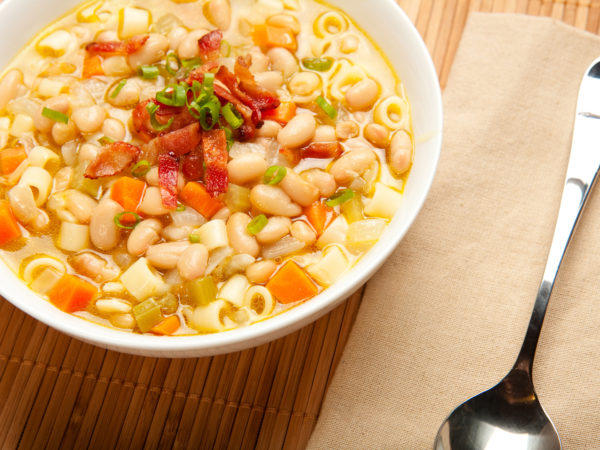 Nutrition
Serves 8
Nutrients Per Serving
Calories: 315.2
Protein: 22.2 grams
Fat: 6.0 grams
Saturated Fat: 2.7 grams
Monounsat Fat: 2.4 grams
Polyunsat Fat: 0.5 grams
Carbohydrate: 44.2 grams
Fiber: 9.7 grams
Cholesterol: 9.8 mg
Vitamin A: 55.4 IU
Vitamin E: 0.6 mg/IU
Vitamin C: 3.1 mg
Calcium: 313.8 mg
Magnesium: 106.9 mg
This traditional pasta and white bean soup is an Italian classic that makes a wonderful supper!

Be sure to cook the pasta until just al dente, keeping it a bit chewy or "toothsome." It makes a wonderful supper when served with a large tossed salad of romaine lettuce with red peppers, olives and sliced cucumbers and a dessert of plump dried fruit and roasted almonds.
Food as Medicine
Like all legumes, white beans are high in dietary fiber, with almost 50 percent of the Daily Value in just one cup. Soluble fiber binds with cholesterol-containing bile and escorts it out of the body. A global study of 16,000 middle-aged men found those who consumed the most legumes reduced their risk of heart disease by 82 percent. This recipe is also beneficial for blood sugar control: a substance in onions known as allyl propyl disulfide has been shown to lower blood glucose levels.
Ingredients
1 cup dried small white beans
1 tablespoon extra-virgin olive oil
1 large onion, chopped
6 cloves garlic, minced
10 cups water or vegetable stock
1/2 teaspoon dried rosemary, crushed
1 cup small pasta, such as orzo or small shells
Salt and black pepper to taste
2 tablespoons fresh parsley, chopped
1 cup freshly grated Parmesan cheese
Additional extra-virgin olive oil (optional)
Instructions
Wash the beans. In a large pot, cover them with cold water. Soak for 8 hours. Drain into a colander.
In the same pot, heat 1 tablespoon of olive oil over medium heat, add the onion and garlic, and sauté until soft.
Add the beans and water or stock. Cover and bring to a boil over high heat.
Reduce heat to low, add the rosemary, and simmer 2 hours or until the beans are tender.
Raise heat to high, add the pasta, and cook until al dente.
Season the soup to taste with salt and pepper, garnish with the chopped parsley.
Serve accompanied by grated Parmesan cheese and the optional drizzle of extra-virgin olive oil.